Brooke Hayman and Julian White travelled from the other side of the globe to turn their fellow Scotch Malt Whisky Society members' views about Australian whisky upside down
It wasn't only Brooke Hayman who benefited from winning the Australian Malt Whisky Tasting Championship (The Whisky Champs) last year – the country's
biggest and most prestigious blind-tasting competition. As well as being crowned
Malt Whisky Tasting Champion of Australia, the
co-owner of SMWS partner bar Whisky + Alement in Melbourne also
scooped the Society's prize of a trip for two to Edinburgh, to attend a private tasting at The Vaults.
Brooke and her partner Julian White paid a visit to Scotland in October, but instead of turning up simply to take part in a tasting, they kindly offered to host their own. With that in mind, they brought a selection of Australian whiskies and all their knowledge about the country's vibrant distilling scene to an enraptured crowd of Society members in the Cask Room at The Vaults.
"We'd noted on previous trips over here how little 'good' Aussie whisky makes it to the UK," Julian explained to his audience. "So we thought it was time to bring what we considered 'the cream of the crop' to the Society."
The 'cream of the crop' in this case included three drams, which Julian introduced with an overview of Australia's dynamic distilling scene.
A SPIRITED INDUSTRY
"It only about eight years since Brooke and I first visited Tasmania," Julian told the SMWS members at the tasting. "In that short period 'the Apple Isle', as it's known, has gone from having only seven whisky distilleries to over 30, with more in the pipeline.
"We were both drawn to visit after watching a cooking show on television by a food critic who had relocated to the island. This particular episode featured the Lark whisky distillery, so we booked our own trip to Tasmania to find out more.
"We arrived in the island's capital Hobart in January 2011, and made a speculative phone call to the distillery founder, Bill Lark. To our eternal gratitude, Bill offered to show us around his distillery the next day. We also took a trip to Sullivan's Cove distillery and then met up with Tim Duckett, from independent bottler Heartwood Whisky. That was pretty much the entire whisky industry in Tasmania at that time."
LEGACY AND CHANGE
Julian and Brooke have been back to Tasmania every year as the distilling scene has developed, and in 2018 even brought a team of 10 from their bar Whisky + Alement to meet distillers face-to-face.
"For us, that personal contact helps us all to understand the different distilleries' visions, and is the best way to truly appreciate a dram," said Julian. "You can still see how strong Bill Lark's legacy is throughout the Australian distilling scene, as there's hardly a distiller in the country that doesn't reference his influence."
One common feature in Australia that does look to finally be on the wane is the industry's reliance on maturation in 20-litre ex-fortified wine casks.
"It did seem like the 'recipe' to break into the industry Down Under," said Julian. "But while these casks did produce some brilliant drams, you had to be in the bond store sampling every day of the summer, in case the wood influence took over – which can seem to happen overnight to these little casks during an Australian summer. On our most recent trip to 'Tassie', the team saw a shift to larger casks and a much wider variation of previous fills."
RULES AND DEFINITIONS
Julian also explained some of the key differences between what qualifies as whisky in Australia compared with Scotland – with a less strict environment allowing distillers to do things that wouldn't be permitted over here.
"Australia's Spirits Act of 1906 stipulates that new make needs to be matured for two years to be called whisky, instead of the three years for Scotch," said Julian. "Casks are only described as being wooden, as opposed to the Scottish specification of oak. Also, our Food Standards Code says whisky must be a minimum of 37% alcohol by volume, making Australia one of very few places to sell bourbons at below their legal strength of 40% abv."
Julian also explained that until relatively recently there was some confusion in describing casks used for Australian-made fortified wines. 'Port' could previously cover a wide range of different styles of fortified wines, for example, while sherry had been used for wines that had only been somewhat inspired by the region of Jerez in Spain.
"Definitions were so loose it's almost embarrassing to report, so new rules were introduced in 2009," said Julian. "Now sherry must be called 'apera' and what was previously referred to as port must now be called 'tawny'.
"But the success of the growing whisky industry means that the supply of such Australian fortified wine casks is becoming scarce. As a result, we're starting to see the emergence of seasoned casks, so it seems that the traditional Australian 'port' style of whisky is no longer sustainable."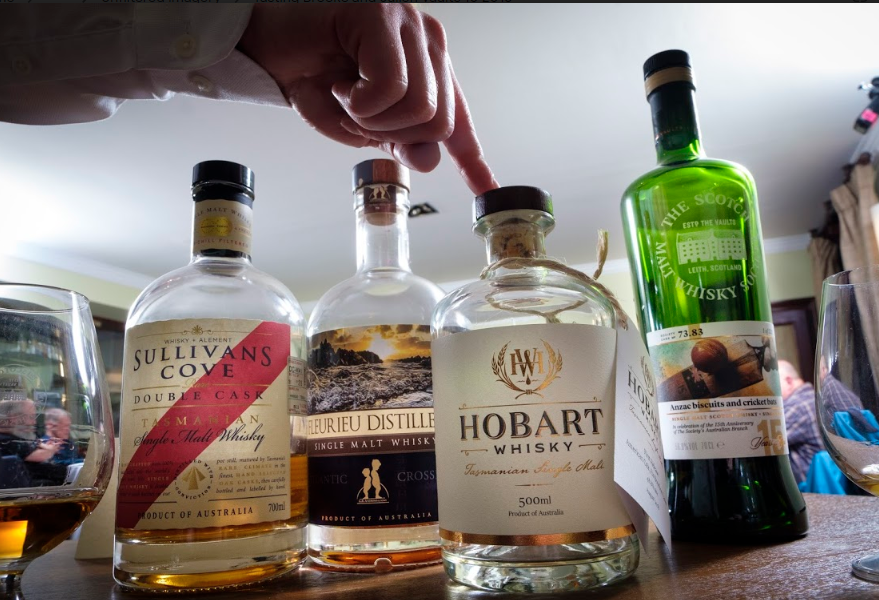 ON TO THE WHISKIES
Julian explained that the aim for the tasting with his and Brooke's selection was to be forward thinking with regard to the Australian whisky scene, rather than illustrating where it had come from. At Whisky + Alement, they put around 10 new bottles on their bar every week – so it's a journey of constant discovery thanks to the rate of progression and innovation.
HOBART WHISKY, DEVIL'S DISTILLERY, TASMANIA
The first release from this distillery whose output is just 10,000 litres per year. Unusual by Australian standards because it hasn't used fortified wine or wine casks. It's a vatting of five 40-litre ex-bourbon casks, small casks that are also traditional in Australia.
"This is a new tune for Aussie malt," said Julian. "Bright fruits, creamy, honeyed, malt forward and a marriage of five casks that were not re-coopered."
SULLIVAN'S COVE DOUBLE CASK, TASMANIA
Julian worked with Sullivan's Cove to create this whisky exclusively for Whisky + Alement. The whisky is 80 per cent 18-year-old ex-bourbon and 20 per cent 9-year-old ex-tawny French oak casks.
"We developed this to demonstrate to the public that a blend – a multiple cask whisky – can be greater than the sum of its parts," said Julian. The experiment's success was borne out by the Society members voting it their favourite dram of the evening.
ATLANTIC CROSSING, FLEURIEU DISTILLERY, ADELAIDE
A very small distillery which opened in 2013 with capacity of only 6,500 litres per year, run by Gareth and Angela Andrews.
"Temperatures at Fleurieu in Adelaide on the eastern coast of the Great Australian Bight regularly make it into the high 30s and sometimes low 40s," said Julian. "Combined with high humidity, that means the angels' share is low and the casks work 'hard and fast'. Four years in 100-litre tawny casks is enough for distiller Gareth Andrews to put whisky to market that's as rich as an 18-year-old GlenDronach."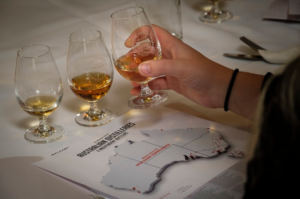 Members clearly relished the opportunity to sample the three distinct drams and dip their toes into a very different world of malt whisky.
"The Australian style of whisky is developing rapidly, but acceptance is growing all the time," said Julian. "When Brooke and I have shared Australian whiskies with Scottish distillers and publicans in the past, we've been met with little comment or scrunched up faces. This time, surrounded by distinguished members of the SMWS at The Vaults, we'd like to think the Aussies have gained some new fans in whisky's motherland."
This article originally featured in our Feb issue of Unfiltered Magazine; a publication for members of the SMWS worldwide. Special thanks to Kai Ivalo, Brooke Hayman, Julian White, James Quaile, Gregor Forbes, and Richard Goslan for their help. To join the SMWS and reap all the benefits of a global whisky club, click here.
WHISKY + ALEMENT
Whisky + Alement is the Society's first partner bar in Australia, and a must-visit destination for whisky enthusiasts in Melbourne. If you're lucky enough to get there, check out the the Whisky + Alement Never Ending Cask.
"Julian and I pitched the idea for this to the SMWS Australia branch to support their request to become a partner bar," said Brooke. "It's a 20-litre ex-apera cask, which was re-seasoned with apera for six months before being filled in February 2013 with Cask No. 33.118: Goodbye to care. Since then, we're refilled the cask with various peated whiskies and by now over 70 litres of SMWS whiskies have passed through the cask. The cask has been rejuvenated with new virgin oak ends that have been lightly toasted, but nothing has been done to the staves. It sits proudly on the bar and is available by the dram only."