June Outturn 2023 Article, originally published in Unfiltered #80.
On the West Coast of Australia sits Perth City. It's a lovely city. Oddly quite empty on a Saturday night, even though there's a number of fantastic little bars nestled within walking distance of each other. One of those bars, is the recently opened (well, recent-ish, July 2022 it opened its doors) Terrarium: a bit of a hidden gem with an unassuming entrance, floor to ceiling windows, and greenery-covered interior and exterior. The twist? This lush and pumping venue is Perth's newest SMWS Partner Bar. Adam Ioannidis journeyed across Australia (literally flew over most of it) to explore the new bar and chat with our new WA Brand Ambassador, Xander Stucken
Owned and managed by David 'Xander' Stucken — who also happens to be Perth's current SMWS Ambassador — Terrarium is a gorgeous haven that, like the name implies, is like being in an actual Terrarium. Just off St George's Terrace is Howard St, where you will find Terrarium's entrance, highlighted by a white, neon-lit dragonfly against a background of lush (artificial) greenery. Follow the short hallway lined with plants behind glass on one side and carefully curated sketches on the other, up a few steps and past the open kitchen, swing a left, up a few more stairs and you're in the actual Terrarium.
The bar lines most of the wall on your left with a few stools to sit, whilst booths are placed against the windows on the right and back wall (wall, being wall-to-ceiling windows). The middle of the floor is occupied by several high tables and stools for larger groups to occupy. It's worth mentioning that all the tables inside were made by Xander (the grains and shapes of several of them actually line up when you placed them side-by-side) from Marri wood slabs, and the blue velvet/wood loungers were custom-made to spec.
No matter where you look, there is greenery all around, a good mix of artificial and actual plants; you may even notice some of the real plants in different spots as their sun and nurturing requirements are constantly being considered and tended to. The bar also boasts a terrace/balcony where a wall of plants and lush greenery resides, keeping a number of tables and chairs company.
"The labour hours of actually keeping stuff alive. It's not as simple as chucking a bit of water and stuff," Says Xander."You can over water, under water, deal with root-rot and pests, and just making sure the plants actually get enough sun. Because some plants get too much, some get too little."
The venue
Xander has about 14 years of experience behind the bar, coming from a previous management position at The Society's other Perth Partner Bar, Bar Lafayette. Throw in a variety of other venues into the mix before and after Bar Lafayette, and you've got a culmination of skill and trade knowledge that makes Terrarium such a well-balanced, yet diverse venue.
"We try not to be too stuffy, or too formal. We are a bar," states Xander. The bar knows what it does and does it well. There's a massive focus on service and delivering a pleasant, and memorable experience. This goes beyond the knowledge of the bartenders and extends well into their personality and presentation, which plays a big part in the bar's image. "I try to make sure everyone has a bit of bounce in their step and personality. (Guests) just want to enjoy themselves, have a good dram, have a good drink, and have a laugh. When you go to like some luxury hotel bars and they just have a stuffiness to them and it's like 'how am I supposed to relax when everyone around me feels like a robot?'".
That ethos is certainly reflected in practice as you'll commonly find Xander waving freely to newcomers coming up the steps and greeting them as if they were familiar faces, and the same goes for the staff. Their main specialty is their cocktails — a dazzling array of carefully chosen concoctions all put together by Xander. There's a mixture of weird, wacky, experimental cocktails and the fun, Instagram-able and delicious "crowd-pleaser" cocktails.
"If something's not right, I won't put it on the menu until I deem it's right."
It's quite an Instagram-able bar — everything from the décor to the cocktails demand to be photographed and shared, and that's done wonder for their online presence. It's the surprising back bar that is easy to overlook, however. Not only is there a steadily growing collection of Society malts behind the bar from both recent Outturns and past Outturns that Xander has been collecting over the years with the express purpose of cracking them open once his own bar came to be (and that goes for several other bottlings, too).
There are two menus — one for cocktails, and one for spirits; both are well-fleshed out, and meticulously arranged, with the spirits menu detailing aspects such as region, ABV, cask and vintage, amongst others. (Their Gin menu even has a recommended garnish column). And the spirits menu itself is quite broad, with everything from Agave to Armagnac to sherry. There is quite literally something for everyone! The in-depth menu makes sense, Xander had a bit of time to methodically build out everything during lockdown. The site that would become Terrarium was found in February 2020 — mere weeks before the lockdown came into effect. This gave him plenty of time to flesh out the idea and create the concept around the site.
"We spent all lockdown coming up with the concept, because the space was just an empty slab. The cool thing is, this tree that you see behind you (right outside the venue), this tree has obviously been there for…God knows how long. But it was just these massive windows, empty slab in here. Quite ironically, that's how the concept came about. If it wasn't for that tree, we probably wouldn't have come up with that concept. And it was like, if we start putting more trees inside to match it, and artificial plants in certain places where things would die, just to give it more lushness."
Being a Partner Bar
"Part of the reason I wanted this to be a Partner Bar was a) I live here, and I wanted to do more with The Society. And b) I wanted to prove that you don't have to be in a dark, dingy basement to enjoy whisky."
Whilst this might seem like an unlikely place to find a single-cask, cask-strength Society malt (or some other lesser-seen drams), members and guests will be pleasantly surprised by the offering. Terrarium is probably one of the most naturally well-lit Partner Bars we have in Australia, in part to its second-story position, and floor-to-ceiling windows. The lively (and it definitely gets lively in the evenings) and sun-drenched environment can deliver a different whisky tasting experience that you will seldom find in other venues. It all ties in to Xander's approach to whisky, and that you don't have to be in an undergrown, dimly-lit bar, or sitting on a chesterfield to enjoy whisky — there's nothing wrong with either of those examples, but the preconception that you must be in a certain setting, or act a particular way to be able to drink whisky is one that's only now slowly beginning to be broken across the industry.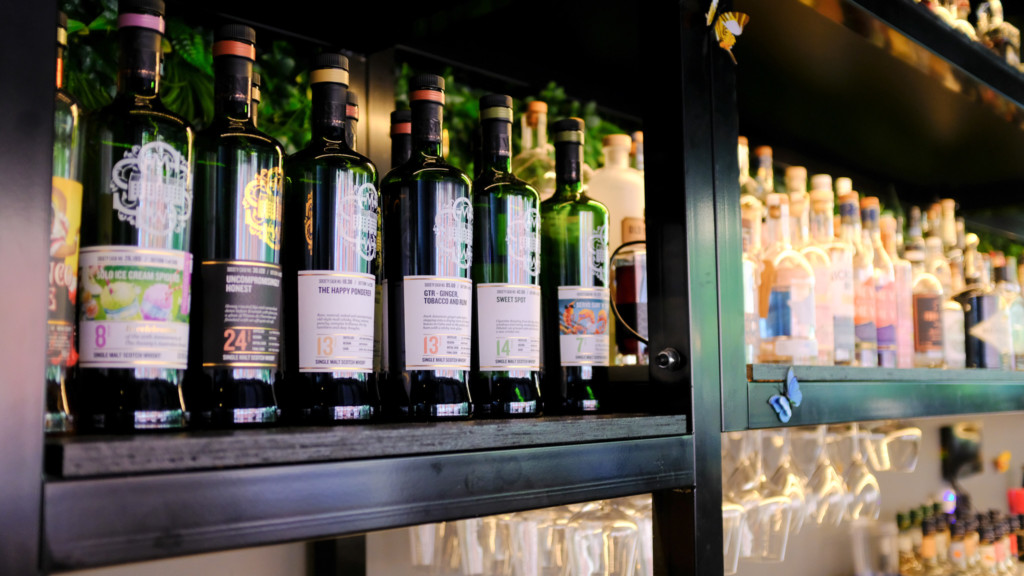 As the local State Ambassador, Xander is also responsible for hosting Society events in WA (taking over from Jason Davies in 2022), the last few of which have been hosted at the bar — a perfect location for hosting 40 or so in a seated fashion with welcome drinks being served on the terrace during pre-tasting mingling. Groups of members have even banded together for regular tastings at the bar in what they call 'Terrarium Tuesdays', where a dozen or so members get together at the bar and taste through Society malts on offer. In true Terrarium fashion, some SMWS malts are even used by Xander to make some impromptu, exquisite-looking cocktails that may cause some to utter "heresy".
Xander says "It was always the plan" to be a Partner Bar. He's been involved with The Society since working with Varnish (an ex-Partner Bar) around 2015. The bar has recently also completed a third room on the ground floor which will act as a small-scale tasting room, a room that Xander hopes will play host to more specialised and concentrated tastings with The SMWS and wider spirits community.
Terrarium is located at 99 St Georges Tce, Perth, Western Australia 6000. Just look for the neon dragonfly signage and follow the passage. Don't forget to flash your SMWS membership card for discounts off Society drams and be sure to say hi to Xander and the team when you pop in!
This article is featured in June 2023 Outturn (and Unfiltered #80) — bottles will be available to purchase on Friday the 2nd of June at midday AEST exclusively to members of The Scotch Malt Whisky Society. Not a member? Click here to learn more about the world's most colourful whisky club.