The Scotch Malt Whisky Society is a premium whisky club; more than that, though, it's a community, a place where whisky lovers, appreciators, connoisseurs, dabblers and enthusiasts come together to share their passion for flavour.
That's what it's all about — sharing flavour and celebrating whisky in its purest form — cask strength bottled directly from a single cask. I'd like to take you back to the very beginning of The Scotch Malt Whisky Society, to our spiritual home in Leith, Edinburgh, Scotland, where our founder Phillip 'Pip' Hills conceived a genius idea.
A few mates and a single cask
You may have noticed our bottles' labels are a little different — we don't state the distillery name but instead reference it through a numbering system. Each distillery is assigned a number, with #1 being the first distillery ever bottled. In 1983, Pip Hills and a group of friends purchased a single cask of whisky from a particularly well-known Speyside distillery and drank directly from it. The incredible flavours yielded from a single cask at cask strength bedazzled them and not long after, they purchased part of The Vaults — a 17th-century warehouse by the port in Leith, Edinburgh. The syndicate, led by Hills, decided to share this delight with others and thus a membership-only whisky club was established, and the purchased cask was bottled (a 1975 Sherry cask) and labelled 1.1 — the first cask from the first distillery bottled by The Society.
One of the last surviving Cask 1.1's being shared around The Vaults in 2019
The Society grows; the palates expand
Following that first bottling, the members grew and so did The Society's repertoire of distilleries — reaching 51 just five years later. Distillery 51, was, however, The SMWS' first bottled whisky from outside of Scotland — an Irish whisky, in fact. Some 24 years later and The Society releases its first bottled Japanese whisky — Cask 116.1. Though there were some that felt the name Scotch Malt Whisky Society had little to do with the product anymore, the goal remained the same, to share the passion and explore the remarkable flavours obtained from single-cask expressions. In 2022 The Society celebrated the bottling of Cask 150.1 — 150 whisky distilleries bottled by The Society, not to mention several gin, bourbon, Armagnac, Cognac and rum distilleries in a quest to further explore single-cask flavour. There are currently over 40,000 members worldwide, with SMWS branches in 29 countries — a truly global community.
The Society in Australia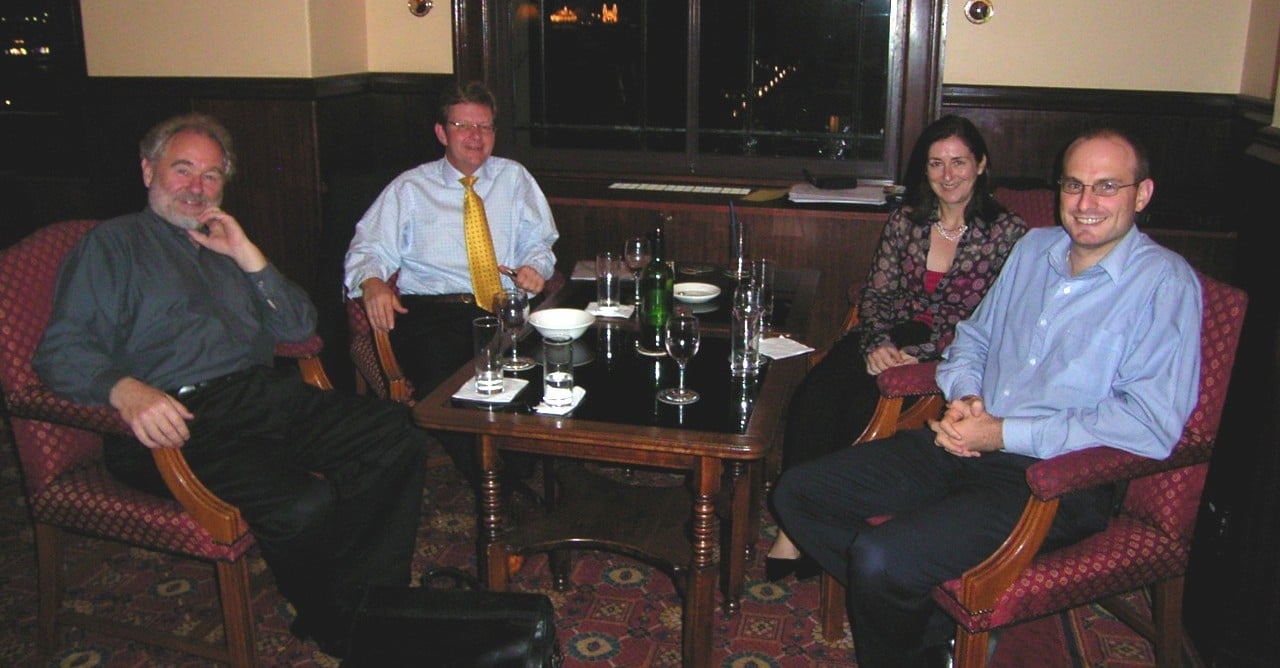 The Australia Branch's first board meeting. Pictured (left to right): Andre Tammes, Chris Barnes, Suzy Tawse, Andrew Derbidge — June 30th, 2006.
2002 marked the inception of The Australian branch of The Scotch Malt Whisky Society — originally a franchise, but from 2020, wholly owned by The SMWS. In the last 20 years, The Australian branch has flourished to become one of the leading branches in the world, hosting immaculate and unforgettable events & experiences, and establishing a network of Partner Bars around the country that serve and carry the word of The Society. Of these 14 (at current) Partner Bars, Whisky & Alement in Melbourne stocks the largest range of Society bottlings in Australia.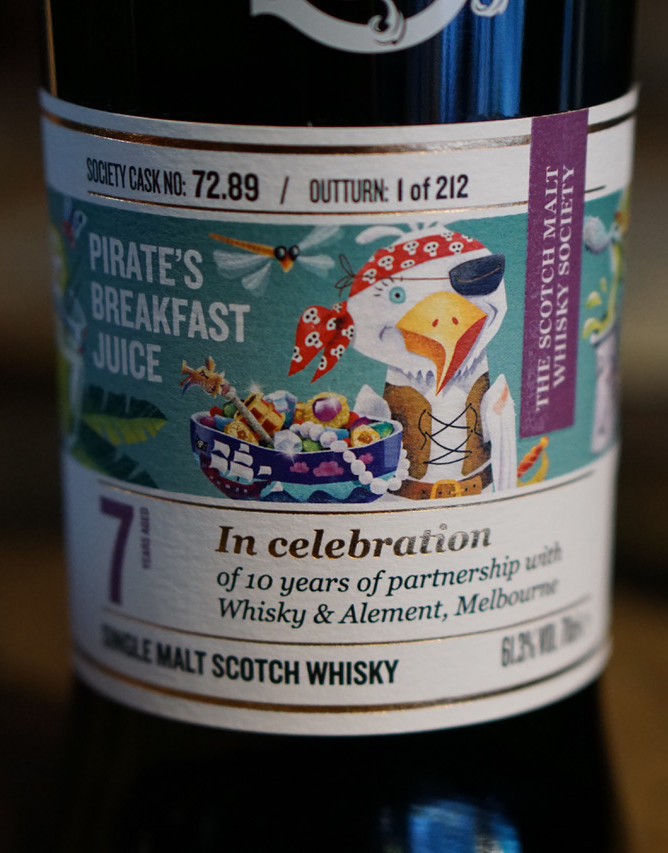 Run by passionate and knowledgable staff, Whisky & Alement is Melbourne's premier whisky experience and Society outpost. The place to be for anything and everything Society-related, W&A have had two exclusive Society bottles (Cask 68.18 Triple Berry Lamington Cake and Cask 72.89 Pirates Breakfast Juice) and played host to countless events.
Whisky & Alement is perfect for exploring our 12 flavour profiles and discovering something a bit different such as the Never-ending Cask, which is a miniature barrel located behind the bar that is constantly filled with peated Society spirit to be further matured and aged over time; you can grab a dram of this peated spirit poured straight from the cask at the bar any time (all you have to do is ask!).
Being a Partner Bar, SMWS members also receive a 20% discount on all Society drams. We encourage all members (or those interested in joining The Society) to head to our Partner Bar page to find your local Partner Bar and see what sort of discounts and specials are on offer.
The art and the single cask
The Society employs an expert tasting panel comprised of trained and enthusiastic specialists in the field that blindly sample each whisky before it is bottled to ensure only the highest-calibre spirit is being released. This is the same tasting panel that writes the flamboyant and creative tasting notes you can find printed on our bottles or in our monthly catalogue — Outturn Magazine, which lists all the upcoming releases for the month along with full cask details and explorative articles.
Of course, Outturn wasn't always around, and in the early years where The Society saw rapid growth, fine art helped visualise the tasting notes of upcoming cask releases in what could be seen as Outturn's predecessor. Illustrating these was one Mr Bob Dewar — who, at the time, was a political cartoonist for The Scotsman.
Bob Dewar's style became synonymous with all facets of The Scotch Malt Whisky Society; walk into The Vaults' members' room today and look up at the ceiling — you will see the history of whisky as illustrated by Dewar himself in 1998 in honour of the Society's 15th anniversary. In fact, you can still find small parts of Dewar's art and inspiration in modern Outturns and Society livery — even coasters.
It's never too late to join…
The Scotch Malt Whisky Society is a continually growing and thriving whisky club with an astounding and passionate presence in Australia — it really is that next step on your whisky journey where decisions are made based purely on flavour, you'll soon find that the tasting notes and flavour profiles are your guides to finding astounding casks. It's not just about the whisky, though, SMWS membership grants you access to exclusive perks, too:
12 – 15 new delicious single cask, cask strength whiskies per month available directly from our shop.
Special member pricing to events + exclusive member-only experiences.
Discounts at our extensive network of Partner Bars.
Access to our monthly publications Outturn Magazine and Unfiltered Magazine (members-only).
A global membership — access members-only venues around the world with your membership card.
A wealth of knowledge & education across a variety of mediums.
A community of truly passionate and enthusiastic whisky lovers like yourself.