If you've never visited Scottish distilleries and have a purely idyllic perspective on what all distilleries look like, then when you do visit, you're likely to be a bit disappointed…
As I've said at tastings before, not every distillery looks like Strathisla. Some do, but many look like fairly nondescript industrial estates with rows of grey warehouses and often a few steel pipes poking out here and there. Others have the misfortune of looking downright ugly (no offence, Tomatin). Teaninich falls into the middle category. Its purpose is to supply the demand for blended whiskies in the Diageo folio like Johnnie Walker and Black & White. It's an important part of the chain and with the exception of a Flora & Fauna release at 43%, there's no real core range bottling to speak of.
Founded in 1817 by Napoleonic war hero and estate owner Captain Hugh Monroe who lived on the site along with his brother John Munro, who ran it until 1869, and then a few more changes in hands until in 1933 it was taken over by DCL, which would eventually become the Diageo we know today. Ever since DCL took over the reins, it has been central to their blenders and has seen periodic upgrades and new stills added from time to time. As late as 2014 a further six stills and eight washbacks were added – a sign of the times in whisky demand!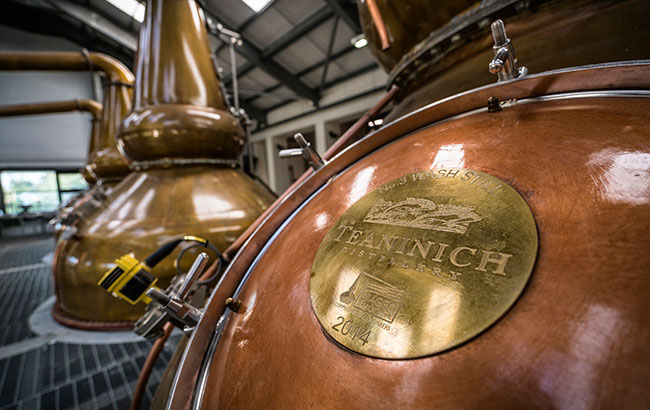 But if we're to nerd out for a moment about the uniqueness of Teaninich and how it's an oft-overlooked code at the SMWS, is how it's the only Scotch malt whisky distillery in Scotland to NOT have a mash tun. Traditionally, the mashing process takes place in a vessel known as a 'mash tun' and uses heat in the form of hot water to induce natural enzymes to break down starch in the grain into fermentable sugars. The word itself is a shortened version of 'maceration' aka macerating the barley with hot water, and is a crucial part of the production process. Most distilleries have a Lauter Tun which is far more efficient, but a couple still use old-school 'rake and plough' style ones like seen at Bruichladdich. If you've ever seen a mash tun in action, you'll know it's quite a sight to behold, especially an old-school rake and plough one.
Teaninich have innovated here by using a hammer mill as a two-in-one affair, nwhere it mills the barley separately and the barley then passes to the mashing stage just like any other distillery. Essentially a 'horizontal tea bag' operation that is the mash filter that replaces the traditional mash tun. So to think that you're able to get a single cask of quite an innovating distillery is already quite unique, but especially from a distillery that has little to no core range. It makes for a very intriguing and delicious cask selection from the tasting panel.
—
The full March Outurn goes on sale exclusively for members of the Society this Friday 6 March at midday AEDT. Not a member and want to be a part of the biggest whisky club worldwide? Join here and come along for the journey into flavour!