The following article was written by our National Ambassador, Matt Bailey, for the August 2021 Outturn which features our very first Australian whisky bottled by the SMWS. He thinks this is a rather special occasion, and the first of many. Join him on this journey by joining the SMWS today.
Chapter 3 – Australian whisky is changed forever…
By Matt Bailey
If I had a dollar for every time a member has asked me "when is the Society doing an Australian whisky?" I think I could have saved all those dollars up and built my own distillery and gone ahead with it. The other question I've lost count of how many times I've been asked is "Wait, they make whisky in Australia?"  That one has been happening less and less as awareness on our local spirit grows.
But… it's not that easy. I want to take a moment to assess where we are, where we started, and how doing it right was always going to be better than doing it first.
When the Society was established in Australia by John Rourke and Andre Tammes in 2002, Australian whisky back then was still relatively unknown, at least outside of an inner circle of Tasmanian enthusiasts. Let's take a look back at what Aussie whisky looked like in 2002: Bill & Lyn Lark had been quietly laying stocks down over at Lark for about a decade, Patrick Maguire was about to take the reins at Sullivan's Cove, and Archie Rose's Will Edwards had just started Year 8 in high school. The resurgence of mainland distilleries as we know it today wasn't even quite a 'blip' yet. 2002 was still five years before a Starward was even conceived; a year before Bakery Hill would first showcase their wares; and three years before Limeburners would first run their still.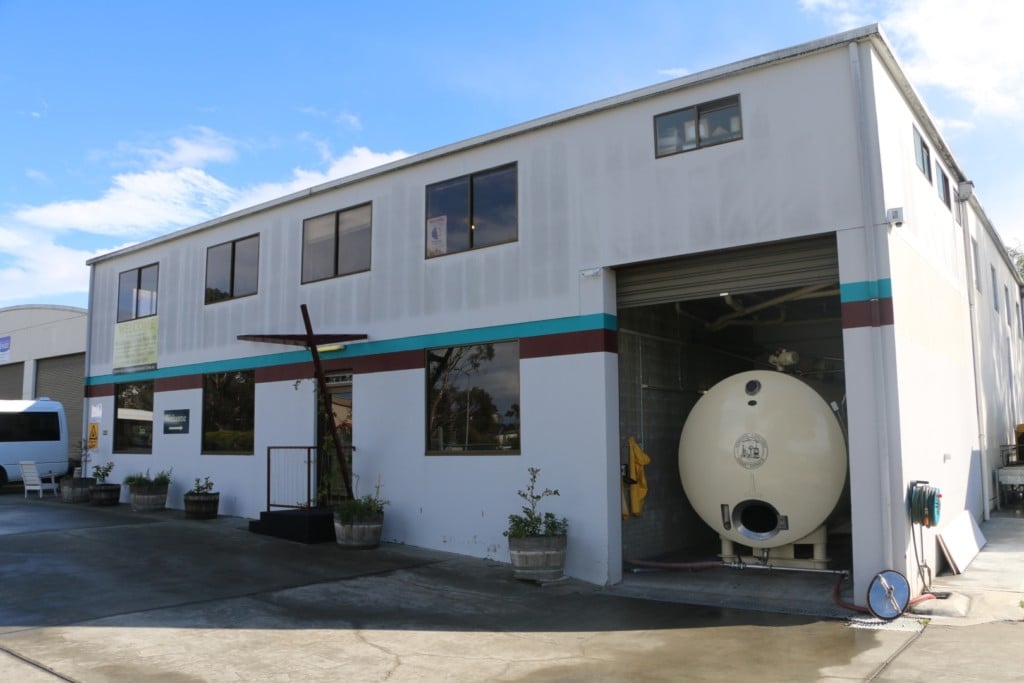 To call the local whisky trade 'fledgling' would be an understatement. Whisky drinkers accustomed to Scotch or Irish whiskey weren't paying attention to it, and most of the measly output coming from each distillery was being sold in poorly-packaged bottlings that either emulated Scotch whisky bottles in design, or worse, were actual Scotch whiskies being packaged as "Australian whiskey". None of this had any bearing on the truth of the product at all. Australian whiskies being bottled as Scotch whiskies and a complete muddying of the water in both product and image. When there was (and still is) just so much incredible quality Scotch whisky being produced, this hobbyist industry wasn't getting much limelight or identity.
My first proper interaction with Australian whisky was on a trip to Tasmania around 2011 or so. A beaten up Corolla as a hire car and a few days to explore was all that was needed at the time. Even as late as 2011 while there were a few more distilleries than 2002, the number that had a 'cellar door' or tour could be counted on one hand. On that trip I connected with Jane & Casey Overeem, with Patrick Maguire at Sullivans Cove, with Tim Duckett at Heartwood, and the bar team at Lark where Mark Nicholson was casually imbibing at the time. The tour with Jane was the amazing semi-underground bond store and drams with Casey. The tour of Sullivans Cove was a wild and hectic walkthrough a very busy and flustered distillery. Then a 10am catch up the next day with Tim Duckett on Tasma St made for a rather fuzzy afternoon. It felt very nascent, but also very 'made in Tasmania, for Tasmania'. A cottage industry, if you will. Bill & Lyn Lark some years earlier had already created a new industry and revived the local whisky distilling scene, but it really had no market footprint and was a small hardcore group of enthusiasts, mostly in Tassie, who raved about it. I bought some bottles, tasted some goodies, and chalked up some valuable expertise and lifelong friendships. Little did I know everything would change as soon as 2-3 years later…
It's not unfair to call 2014 a turning point for Australian whisky. Barely seven years ago you'd walk into your local Dan Murphys and find maybe a bottle of Lark, a Nant, a Sullivans Cove and relative newcomer Starward 'Solera' that hadn't really picked up too much steam yet. Slim pickings to say the least, and most collected dust on the shelves. These bottlings for any whisky enthusiast were always a 'gamble' when compared with other offerings on the shelf or picking a Society bottling to last a month or so. I had already been a member of the SMWS for about a year and had picked up some cracking bottlings from attending tastings held by Andrew at the Royal Automobile Club, so the offering of Aussie whisky in comparison wasn't very exciting or varied. Early 2014 I was on a holiday up in North Queensland and I didn't pack much whisky on that holiday, figuring I could just find a local bottle shop. The best option that far north was a Coles-owned First Choice Liquor, so I wasn't expecting a lot to be honest. I picked up two bottles: a Clynelish 14, and a Sullivan's Cove French Oak Cask Strength. Both were within a similar price range and both meant I could have some variation on this holiday.
On that very holiday I read the news that cask 525 from Sullivans Cove had just won world's best single malt at Whisky Magazine's World Whisky Awards. Social media was alight with the news, and I had a few fresh emails from regulars at my tastings pre-Society who were asking me if I was going to have this cask at tastings. Such is the curse and blessing of the single cask: once it's gone, it's gone. I never had a dram of cask 525 myself, and from all I've heard most of that cask was sold at the distillery cellar door, and most of them were opened and enjoyed. You couldn't ask for a better result really. This cask, from a distillery that mostly released only single casks, had picked up the highest honour not just in Australia, but in the world. A cottage industry had just found its straps and everything was set to change. Suddenly, Australian whisky wasn't just the stuff you'd largely avoid out of the fear of the unknown, but the world's best single malt, according to one award anyway. This was a massive turning point for local trade and distilleries. It's worth noting here however that "Australian whisky" was by most accounts of local awareness just a Tasmanian thing. I've lost track of how many times people at tastings have asked me my opinion of Tassie whisky, only to be surprised when I tell them there's also whisky being made on the mainland. Not just also, but in terms of volume, predominantly!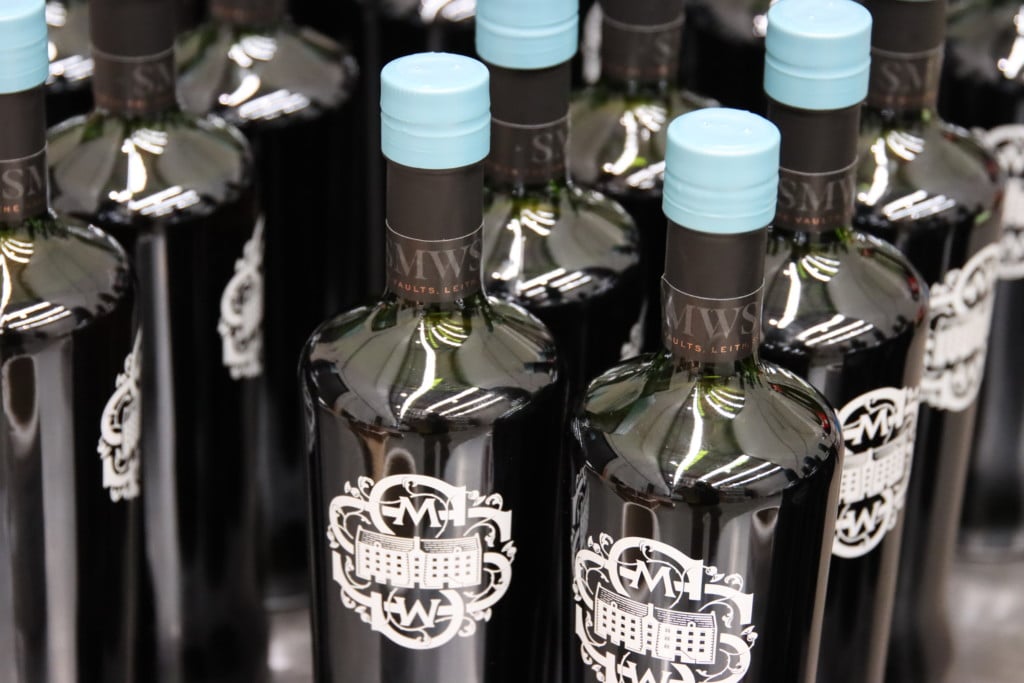 So what has happened since 2014? Interest in Australian whisky has skyrocketed, distilleries have opened across the continent, and that surge in premium single malt has erupted in a way here that we've never previously seen. A boom was born. Dozens of new distilleries were now in planning and quickly building around the country. Suddenly, there's a wave of single malts from distilleries that had to previously connect with every single buyer from scraped mailing lists and distillery-door tastings, engaging with a wider audience who are hungry for each new release. A whole new generation of distillers and enthusiasts essentially created off the back of the win of one single cask from one distillery. The power of the single cask after all!
I do emphasise that the wave of premiumisation of single malt in Australia was really what followed in 2014. The well-established distilleries in Tasmania that previously went from using the Salamanca weekend markets as their proving ground to cashed-up tourists, were suddenly overwhelmed in their private mailing lists and fast-selling releases on their websites. Old hands in the game like Lark, Overeem, Sullivans Cove and others suddenly saw the switch flip on supply and demand. The game was changing very quickly. It wasn't all Tasmanian either, as things were starting to really take shape on the mainland. Yes, there were some very well established distilleries on the mainland already quietly churning out whisky from the likes of Bakery Hill in VIC, Smith's Angaston in SA, Limeburners over in WA, and Victoria Valley Distillery in Essendon which would later become better know as Starward. But it's the awareness of Australian single malt again that had really just exploded in the media. The papers went wild, Facebook appreciation groups suddenly sprouted, and the great unknown was suddenly known and desirable.
What we didn't have however was the bedrock of blending that the Scotch whisky industry had, which sustains Scotch whisky as we know it today. That isn't by any lack of trying however: we don't have the capacity (yet), and we just don't have the wealth of knowledge in blending that's handed down generation to generation that Scotland has. When we state that over 85% of all whisky consumed is blended whisky, that's no overstatement. That's the market, and that's the valuable expertise of blenders to supply it. What that means for Australia is there is suddenly a lot of players in an emerging market looking for well-heeled whisky drinkers to buy their wares, with no blending really to speak of. Hundreds of distilleries producing single malt, with an output and cost of production that is well above the established Scotch distilleries that have centuries of experience ahead of them, and bottling every drop as a single malt. It's suddenly a very crowded marketplace all vying for a very small slice of the pie.
Just as 2014 was a seismic shift for Tasmanian whisky, the mainland was also changing and growing as an industry. 2014 saw the New World Projects range emerge from Starward which suddenly exploded onto the scene around March of that year, surprising a whole slew of whisky appreciators. 2014 was also the year Archie Rose distillery was founded in Rosebery, breaking a 161 year drought of independent craft distillation in Sydney. This was a huge turning point in itself and was a proper sign that as a country, we really can make focus more on grain, on spirit, on cask, and quality of output.
So where does the Society come in? There were discussions with Australian distilleries and the SMWS as early as 2008, just six years after the foundation of the branch. The same roadblocks were hit every time: quality of spirit, size of outturn, and price per litre. None of these metrics made sense at the time. When you're talking to Australian distilleries that might be laying down just 8,000L a year, every drop counts, and with the recent hype the scales on supply and demand had tipped very far in the other direction. Being completely honest, the quality wasn't there yet either. A lot of distilleries were copying what their neighbours were doing with the same shaped stills, the same supply of wash, the same supply of casks, and the same pricing. Where would the Society differentiate? What appeal would there be from members when you'd be looking at a $499+ single cask bottling at maybe three years old when there was, and still is, 20-24yo single cask Scotch whisky in the same Outturn for less? Where would the world's best whisky club come in and offer something distinctive in that landscape? This wasn't going to be easy…
The quality of what was being produced, and offered up, just didn't make sense. A lot of distilleries had a long way to go still, and it just didn't add up. Even as recently as 2015-16, Andrew & I, as well as our UK tasting panel, tasted a LOT of samples from distilleries across Australia that didn't pass the panel. Bottling Australian whisky for the sake of bottling Australian whisky wasn't very 'Society'. Our focus on distilleries of incredible quality across the world has been very deliberate, very selective, and very focused on quality of spirit and creativity of what we can create for members. Direct connections to distilleries, deliberate procurement of spirit type, and working with distilleries at the core of the trade, not in the periphery. I honestly can't think of any other whisky club on earth that does that.
Fast forward to early 2016 when Archie Rose had just opened their bar barely a year earlier, and through a conversation with both Dave Withers and our Cellarmaster Andrew, an exciting decision was made to kick off with them as a Partner Bar. A place for members to congregate, take advantage of that members' discount at the bar, and join us for some really special events in the mezzanine and in the distillery itself. In fact, the Society was responsible for christening the distillery floor with the first tasting ever in their new distillery! The speculation of who the first Society Australian whisky was going to be was already running through the air, and justifiably so.
Archie Rose was doing something different. Founded in 2014 by Will Edwards, their site in Rosebery is equal parts incredible bar and distillery, which was already radically different from the usual little distillery and micro cellar door setup of old. This was a fast-paced environment of spirit innovation, amazing bar service, and with Dave Withers running the stills I was excited to see what would come of this. They are focusing on gin, vodka, rye, single malt, and the occasional rum. One of their quieter achievements that really spiked our interest was their six malt new make. A mixture of kilned pale, peated pale, amber, roasted Aromatic, crystalised caramel, and roasted chocolate malts. Most single malt whisky typically features one or two malt mash bills, their six-malt mash bill was producing a very low-yield spirit output, which in the grand scheme of things was a small sacrifice for flavour and regional character. Notes of green malt, dark chocolate, fresh coffee, waffles with syrup and spicy walnuts abounds! What would happen if we selected a single cask, matured, six-malt new make from this distillery?
Selecting this spirit made sense in terms of differentiation, and in terms of showing members around Australia, and indeed the world, what we are good at. This is almost best defined as 'post 2014' whisky in Australia. No longer content with copying what the neighbours are doing, or what Scotland are doing, or what we 'should' be doing. We constantly fly the flag for unique at the Society. Unique single casks that are worth bottling. Taking that same approach with spirit and selection of cask is hugely important to us, and to our members that make this Society what it is.
As for the existence of Cask 147.1 Jacaranda Jam – David Ridley, our global MD of the SMWS, was in Sydney for a few days back in July 2019 and was keen to meet with Will & Dave at Archie Rose. We tasted a few samples, and David was quite taken back. The quality of their spirit, the attention to detail, their six malt new make, all stacked up. Dave Withers, their master distiller, had already made some incredible developments, and their new make was delicious. So much so, they even bottled it as a one-off standalone release that same year. About two months after that meeting, I received a call from Dave asking me to come down to the distillery and taste something. He presented me a cask sample of a 2.5 year old sample and said "this is the cask". We tasted it, talked about it, did some in-depth tasting notes and were suitably impressed. We could tell it needed a bit more time in oak, but it was coming along very nicely. A 225L ex-Port cask that would eventually have the first Society Archie Rose in it.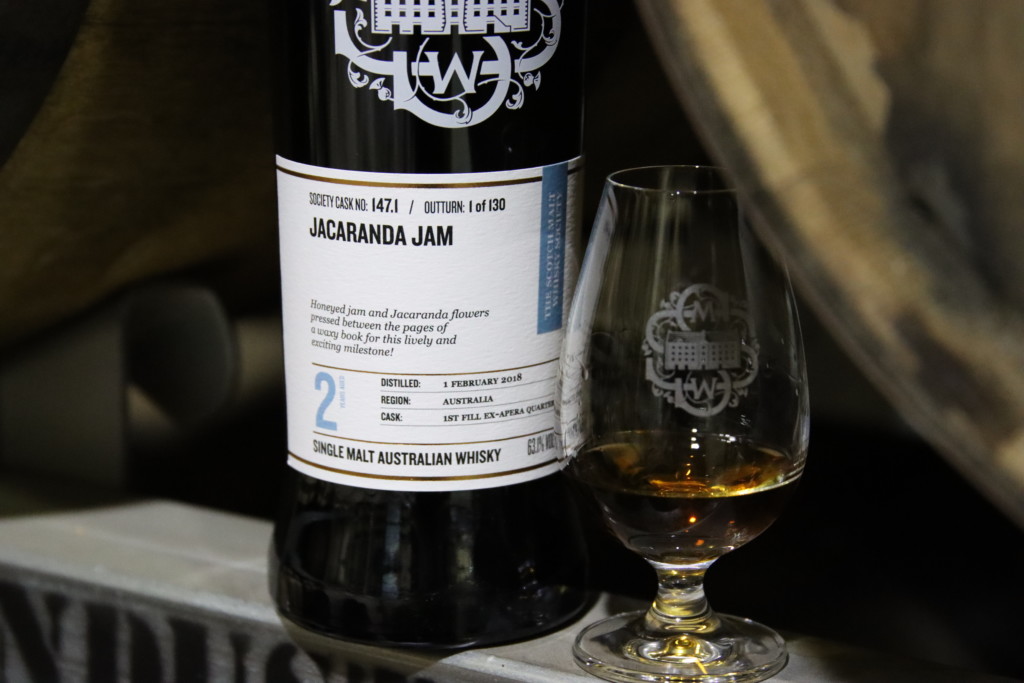 A bit more time passed, maturation was coming to completion, labels were in production, tasting notes underway. Then came the call from Dave Withers: "This isn't going to work, I'm not happy with where this is sitting, let's change gears." The cask we'd initially picked out had done one summer too many and taken a turn for the worse. Dave was honest and wanted to ensure that what we were bottling wasn't just 'what was available', but worthy of the Society livery. Back to the drawing board, and back to tasting through another box of samples. He could have sold that cask on to us, he could have pretended to be happy with it, it could have been "good enough", but Dave is an old hand at understanding the exacting needs of the SMWS, being a member himself for nearly ten years now. He knows how picky our expert tasting panel are, and he knows that for it to be the first Australian whisky bottled by the SMWS, it needs to be absolutely cracking. He sent through another 6 x samples drawn from casks to select, then Andrew & I narrowed it down to 4, which we then sent to our UK tasting panel to assess. We came to a consensus and found Cask 147.1 finally. It was a smaller cask, it was a bit younger, but it shone. It wasn't copycat cask, it wasn't copycat spirit, it was our first Australian whisky from the SMWS.
We're not the first whisky club to bottle an Australian whisky. We're not the first independently bottled Australian whisky. Being first doesn't matter – what matters is how you do it, why you've done it, how you innovate, how you can bring something special to the table. There have been some marvellous bottlings of Australian whisky done by independent bottlers, but we've taken the decision to do things our own way, and I'm super proud of how that's come about:
Each cask we've been working on has been selected locally by Andrew & myself, in conjunction with the distiller or blender directly.
Each cask has been first tasted on local tasting panel before being submitted to our expert UK tasting panel for ultimate approval.
Each bottling has been bottled IN Australia at the distillery. We're not shipping bulk spirit over to the UK for bottling and taking a cut back here. This is bottled by us at the distillery, for the SMWS, for members of the SMWS.
We're then sending a small number of bottles from each cask back to the UK to show the world what we're good at.
This is a seismic shift in how any Australian whisky has been bottled previously. We're not just picking what is made available to us, we're not just hoping for the best. This is the core of what the distiller in each case is most proud of. That's something beyond the usual process. The fast-paced, trend-of-the-day, hope-for-the-best, 'this is what we can offer up' doesn't work for us. We need to be better than that, we need to be the Society. Take a slower pace and do it right. We need to say that if this is your first ever Society bottle, it's a look at how diverse the Society has become. If you've been a member for years and this is your first foray into Australian whisky then we'd love to hear what you think. The flavour is such that you want to open it up, share it around, and be proud to be a member. We've bottled this for you. We've gone to great lengths to make this happen. This is everything we've been working on with this distillery for the last five years, in liquid form. Take a moment to appreciate that. The distillery team, the amazing bar staff, and all the friends and family of whisky that make this happen, have made this a reality.
So here we are. The first of many. The dot one. The pioneering moment of years of work, of creation, of celebration. I like to imagine that this moment is as monumental as when Pip and his mates got together to form the Society over Cask 1.1. Or when the Society first bottled a Japanese whisky in 2002 with 116.1. Or when our friends in the Danish branch bottled their 141.1 from a Danish distillery. Members then were confused, angered, and rejected the change, but time showed these were important releases where flavour came first. The Society innovated, changed the game, and continues to do so with Cask 147.1 Jacaranda Jam on our doorstep. This is ours, and we're ecstatic to share it with you. Distilled in Rosebery, Sydney, bottled at their new Banksmeadow site in Sydney (see our YouTube channel for an extensive walkthrough here), enjoyed here and in the Vaults, and proudly bottled into our iconic Society green bottle for members to enjoy.
This is a milestone. This is a moment in Australian whisky history, and a moment in Society history. I strongly encourage you to jump on this special milestone, experience what we worked so hard on bringing to Australian members, and be a part of this incredible moment in both the Society's history, and this moment in shaping Australian whisky now and in the future.
– Matt Bailey is the National Ambassador & Development Director for the SMWS in Australia. He is dedicated to bottling only the best Australia has to offer.