Harriet Leigh, Head of Hospitality, or affectionately known to her friends as 'drinkface', took an hour out of her busy schedule to interview two guys who's friendship through shared experiences and the SMWS has grown over the last ten years, Dave Withers, and Matt Bailey. Dave is the master distiller of Archie Rose Distillery in Rosebery Sydney, and Matt is our national ambassador talking all things single cask and whisky appreciation. Read on…
Harriet: Shall we start by discussing your bromance? How did you two meet? Was it love at first sight?
Dave: Our hands met over a bottle of Ardbeg.
Matt: Yeah our hands both reached for a bottle of Ardbeg 10 at the same time and it was magical. No, I was working in the music industry.
Harriet: Were you in a cool band?
Matt: I was NOT in a cool band, I was in a very terrible band. I'd heard about the Oak Barrel, but never been, and that's where I met Dave. I came in to check out their spirit collection, I was a whisky collector, collector is not the right word, enthusiast is probably….
Harriet: Weirdo?  Whisky Weirdo?
Matt: Yeah weirdo. And I had a chat with Dave at the Oak Barrel.
Dave: I think we were talking about Springbank, or Longrow Red
Matt: Yeah it was Longrow Red first edition – I hated it at the time and wanted to vent.
Dave: We became fast friends.
Harriet: What do you think Dave's influence on the SMWS has been?
Matt: Invaluable…
Dave: I don't think I like this line of questioning.
Matt: Dave was an early part of the tasting panel, and was a key part of shaping where whisky selection and proper appreciation was headed in the country, led by the SMWS. He, along with our Cellarmaster Andrew Derbidge, Murray Hassan, Anthony Cowie, Tony Chapman, Franz Scheurer, and others were key to creating and growing the culture of Australian whisky appreciation on a core level around the country.
Dave: The SMWS was one of the first proper tastings I'd ever been to. It was pretty influential like a bunch of people, In those days it was a very different crowd, you know they were really assessing whisky in really such a considered way, it was amazing.
Harriet: How do you think the crowd has changed?
Dave: It's changed with the acceptance of whisky in the broader society, the kind of crew that was into whisky in those days, albeit it was expanding already, but I think it's more of a dynamic scene. It's much more fluid, you don't have to just be a boffin anymore. You can like whisky and like motorbikes or whatever else you're in to, it's not just about whisky.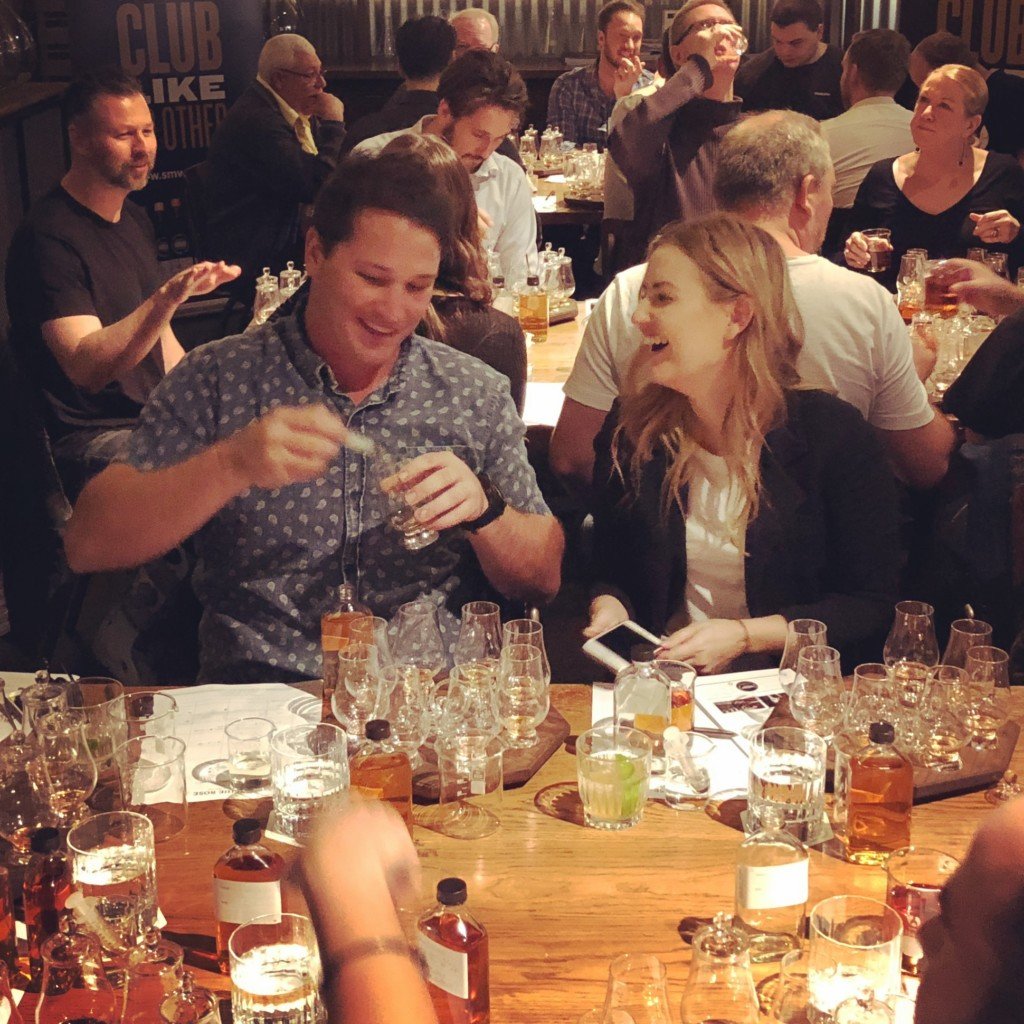 Harriet: Matt how else has the society grown?
Matt: The numbers have certainly grown, but what's interesting is how our members have changed. A few years ago it was quite blasphemous for us to bottle a Japanese whisky, or irish whisky and members would react with "that's not a Scotch" I remember the very first society tasting that I went to I was there courtesy of a mutual friend of ours – Murray Hassan – who invited me along and I didn't know what the society was at the time and there was a Society Kilchoman in the line-up – 129.3 or .2 or something like that, I thought it was outstanding, it was delicious, it was actually my first ever exposure to Kilchoman before I'd even tasted a core range bottling – I went along and I remember sitting at the table at the Royal Automobile Club, and there were two older gentlemen sitting at the table with me, and they said "this isn't real whisky"  and they were used to their Macallan's, their Glenfarclas', I remember being a bit taken back at the time – I thought that was a bit narrow-minded. I thought it was outstanding. I was a bit turned off by it because of what I was saying and I didn't purchase a bottle on the night I had liked it but I was put off by what they were saying. And I was put off by that, but that's really changed now, you don't get that at the Society any more. You don't get that really old school closed-mentality I think that's really good. It's a younger crowd. In fact, the Australian branch has the youngest members and the highest percentage of female percentage in the world, which I think is pretty exciting and a true testament to the growth of the whisky drinking and appreciation around the country, and something I don't mind shouting from the rooftops!
Harriet: that's because you're so dashing.
Matt: well I'm not going to say no. I can't confirm nor deny that.
Harriet: what does it mean to be an ambassador for the society?
Matt: This is something Dave and I have spoken about before. I don't consider myself an ambassador for the just the Society – I consider myself an ambassador for the spirits category, for the growth of whisky in Australia. If someone says to me "Oh I only drink blended whisky or I only drink core range bottling" I will invite them to try something anyway, I won't bash anyone else's brand but you should explore and try things. If someone says they enjoy whisky most in cocktails then great – that's how they enjoy it. I like to think of myself as an ambassador for the category – just like Dave is. We're ambassadors for the category in that we create a scene around whisky that's not just one brand.
Dave: In my opinion, Matt sums up what the modern ambassador is all about. He is proactive and speaks for an industry rather than one producer.  Open, supportive and inclusive Matt is absolutely changing the way scotch whisky and whisky in general is seen in Australia. It helps having a great brand to work with but it says a lot about a person that they can make a premium product speak to the masses.I have a lot of respect for what Matt has achieved. I think you have to be an advocate for openness and acceptingness of whisky, for me whisky all comes down to sharing. The reason why they put it in a 700ml bottle is because it's nearly impossible for you to drink it yourself in one sitting.
Harriet: Amateur.
Dave: (laughs) the actual bottle itself means you have to share it, and that's the whole point of being involved in the industry, sharing whisky, sharing good times.
Harriet (to Matt): Why is Archie Rose your favourite brand?
Matt: I could tell by your cheeky smile; here comes a pearler. It's one of my favourite places to be, that's for sure, and one of the reasons is because of the people who are here.
Harriet: When are we going to see a SMWS bottling of an Archie Rose cask?
Dave: another pearler.
Matt: I love all these questions you're making me answer.
Harriet: well we are recording this
Matt: No comment. I'm getting strong armed…
Harriet: You mentioned previously that you thought of Archie Rose as a pioneering brand. Why is that?
Matt: The answer to that is Dave Withers.
Harriet: Look you're making him squirm.
Matt: I honestly do, I've always thought, Dave's advancement of whisky, even back in his days at the Oak Barrel – he wasn't just hosting events, it was education about the category. And I think he's doing the same thing here at Archie Rose with his advancement of New Make and being able to experiment with things like the Horisumi's, Rums, Kaiju etc. Not many distilleries in Australia are innovating like this and it drives me mental how many distillers are afraid to, or don't forecast, to lay down proper quantity, which a lot of the time comes down to cash flow and all sorts of other issues associated with running a business, which is resulting in 20 to 50 litre casks everywhere and a lot of terrible 20 litre spirit. Put some substantial quantity down, and actually experiment with what you're doing. If you don't like your New Make; change it, if you don't like your gin; change it. And change it until you create something that you want to drink. Make something for your own palate first and foremost, something you'd be proud to drink, and then after that it comes down to public and if they don't like it then you're out. Jokes aside, at Archie Rose what Dave and the team here are doing is paramount.
Dave: I think also there is a great parallel with what the SMWS is doing – you've got bottles from everywhere from Seattle to India, you're bottle cognacs, and you've also got some great value there. Also in my opinion the whisky drinkers can also benefit from drinking some of the great quality rums the society are bringing out. And some of the cognacs have been top class as well. And these categories are still in their times of innocence – there is real value there in these bottles. Innovation in all aspects of the spirits category is really important at this point in time.
Matt: Yeah we've bottled three year old Japanese grain, and 25 year old rum and everything in between. We're always trying to innovate within our own parameters as well and challenge our members' palates with new experiences wherever and whenever we can.
Harriet: what are you most looking forward to pouring when you do your incredible take over of the upstairs bar at Archie Rose?
Matt: Uhhhhh, there are few bottles in the line which we're organising at the moment, which I'm really excited to be able to crack open. One of them is a 30-year-old single cask from Dumbarton distillery which was demolished many years ago, which year it was demolished escapes my memory, any other boffins here know the year off the top of their head?
Dave: uhhhhh…
Harriet: shame on you both, you're not the men I thought you were.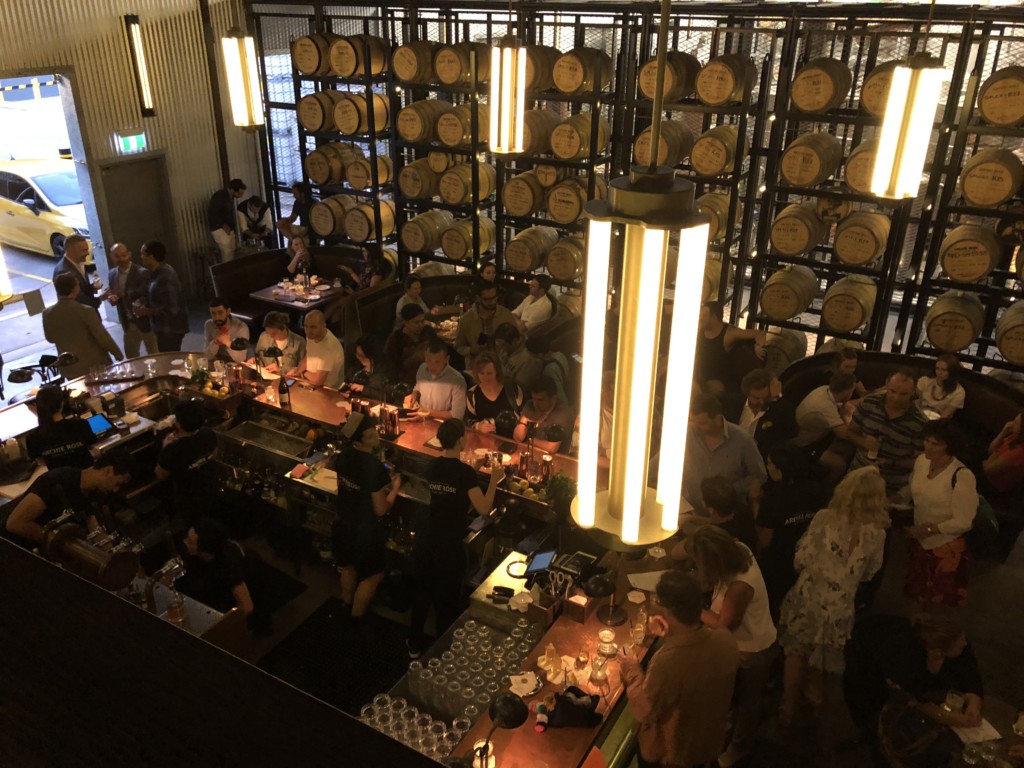 Matt: I'm also really looking forward to our archive bottlings that we're going to open – we've got a few things from the 70s and 80s, they've been sitting in the warehouse since day one. There is a 74 Ardbeg in there.
Dave: STOP IT. Are you opening a 74 Ardbeg?
Matt: I'm trying to get them to let me, I've got to twist a few arms. We've got some rarities in there – we've got an 82 Glenrothes that is a 30.4, we've got 27 dot something which is a delicious looking Springbank cask. And also we've got some upcoming gems that no one has seen before which will be featured on the bar! In particular a 16 year old sherry butt I just tasted last night which is absolutely incredible.
Harriet: I'm pretty excited about your co-hosted Blend Your Own Whisky class. Where guests are going to use exclusively SMWS bottlings to make their own signature blended whisky. Some might say that was a little blasphemous…how do you feel about that?
Matt: I think it's extremely blasphemous and extremely required.
Harriet: who is going to make the best blend out of the two of you?
Matt: IT'S ON!
Dave: I think a lot of SMWS members will not only find it blasphemous but also struggle with the idea of making a blended whisky. And I think that is something we have to get over, this idea that blended whiskies have to be this bottom shelf abomination.
Matt: Totally
Dave: Blending is a really hard thing to do well.
Matt: Look at what people like John Glaser at Compass box are doing they're doing some great blends
Dave: and some of those are top-quality whiskies. I'm excited for the class, I think it's going to be great to use what are top shelf malts to make what could arguably be some great blended whiskies on the day.
Harriet: I'm excited. Shall we make it a permanent pop-up?
Matt: Hahahahah….. PLEASE!
A special thanks to Jonathan Liu, Dave Withers, Harriet Leigh, Will Edwards, and the team at Archie Rose for making this happen. This article originally appeared in the Archie Rose Journal in 2018.