1. Where did your whisky journey begin? What started it all for you?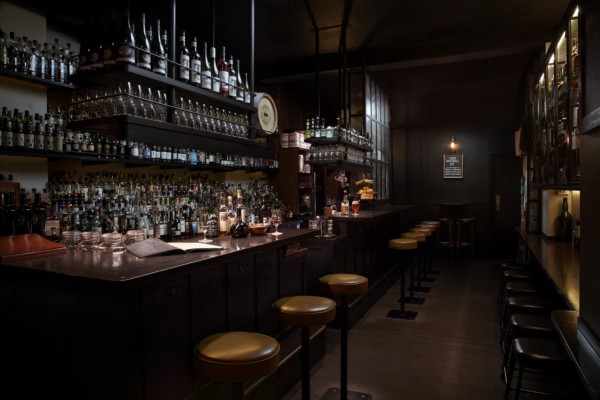 It all started with a Laphroaig 10. Like many other whisky lovers out there, a heavily peated Islay single malt is what got me to really stop and think "how in the world did they get this to taste like that?!" I'll be honest, I was (and sometimes still am) a smoker. I wanted to know why, and how, my whisky tasted like cigarettes — I loved it.
My journey into peat had begun, and this lead me down a flavour-driven rabbit hole. I became utterly obsessed with understanding how different flavours were created in whisky. What different casks could do, cask treatments, different spirit cut points, fermentation techniques, the list goes on. The moment I realised that all the notes I had been hearing "fruit cake, chocolate, rose petals, vanilla etc" are very real. They are chemical compounds, esters, derived from choices made during production and maturation, subjective to individual palates, but very real. This was the moment. And excitingly, I was finally able to look closer and begin to distinguish them myself.
It was during my time at a bar in Melbourne's north (George's Bar) that it all started to kick off. I have been in the hospitality industry for over 10 years now, bars, since 2012, and this was the first time I had worked with a team who really encouraged my love of whisky. Unable to afford all the cool whiskies that I was curious about (we don't get into bartending for the pay packet do we) this meant a lot. The Bar Manager, Brent, had the job of trawling online auctions and stocking the back bar with unique whiskies, so when the bottles would arrive, Brent would take the time to sit with me, take me through the notes and train me on them, I'll always be grateful for Brent and his generosity with his time and knowledge.
2. 2021 has been one strange year, and W&A have managed to really adapt with you leading the events side. How has that been?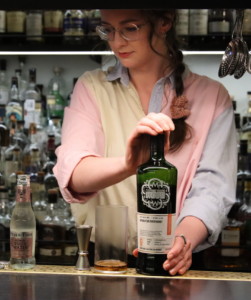 I have felt like one of the lucky ones this whole year, very lucky, but oh — the anxiety.
I was able to continue working! But I'm working in an industry that is on its knees… In a bar that I love SO much! But that bar that is struggling through every week… It has been heartbreaking, but it has shown us that we are strong, and that the love for Whisky, and for Whisky & Alement is stronger. We recognised very early on what needed to be done, and because of that we were one of the very first (if not the first) venues to offer virtual Whisky tastings, all the way back in April 2020.
2021 has been incredible on the events side, the community is just unreal, and we have not stopped adapting. With a new audio-visual set-up, we are excited to launch hybrid events when the bar reopens. This event format will see your presenter projected on the big screen, live in the Melbourne Whisky Room, to a room that is full of attendees! This means we will still get to enjoy the same high calibre of presenter we have had on virtual tastings, in the venue, and with friends.
3. Gathering and creating special experiences has morphed completely. What has been one of the unexpected positives to come from this?
One of the unexpected positives: the personability of people you always perceived as industry enigmas, untouchable and unreachable. Being able to connect with incredible whisky-minds from all over the world, and sharing these connections with our amazing whisky community. The most renowned personalities and producers in the world are only an email away from jumping online and sharing what they know. I have been shown that these people — people I have only read about — are just people, people that love whisky and the whisky industry, and want to do whatever they can to help. These virtual tastings have broken the ice, conversations usually reserved for the in-crowd sat in the back room of a cool bar, are being had online between all.
4. You've crafted your 'perfect summer serve' for members to try at home. What have you gone with and why?
148.1 "Apera For All!" tall, over ice, with Fever Tree soda.
Build like so: 45ml of whisky, ice to the top, then soda, leaving two fingers of space at the rim of the glass.
I wanted to keep my Summer Serve honest, and simple.
This is really what I drink in summer, and anyone can make it.
From light, unpeated ex-bourbon cask matured whiskies, to heavily peated, cask driven brine-bombs. I'd wager that a highball made with almost any Scotch Malt Whisky Society single malt will be delicious, but when I saw this release on Outturn with notes of cherry chocolates and strawberry balsamic, it was a no brainer.
Here are a few tips that will ensure your drink is delicious, no matter the base.
Mix with a soda water like Fever Tree, they use spring water with a low mineral content (avoids chalky aftertaste).
If you're using a soda stream for at-home soda water, carbonate it to the highest degree, the oils and esters will dance on your tongue, you'll thank me,
Try to go for a whisky with a higher ABV, this avoids 'drowning' it.
Play with the proportions of soda/spirit. Start with 30ml of soda and work up, you can always add but you can't take away.
Keep the stirring to a minimum, and fill the glass to the top with ice. It may seem like less ice in your glass means your drink won't dilute, right? This isn't the case, more ice = colder everything = slower dilution.
5. What are you most looking forward to in 2021 and any other message for members travelling far and wide to again sit at the bar at Whisky & Alement?
I'm looking forward to the resurrection of my beloved hospitality industry. To spring after a long winter. To a crowded bar. To Friday night service when there is so much excited whisky-chatter that it turns into a low hum. To hear Lachie's work playlists again, 'Quiet and Warming' all the way to 'Packed to the Rafters,' and to catch up with everyone who I've been squinting at through a screen all year.
My advice? Try to get a seat at the bar, and ask for recommendations from the friendly team. There were so many amazing whiskies added to the back bar during lockdown that we cannot wait to share and talk about. Also, I highly recommend booking in advance!
Written by the legendary Miranda Lidgerwood
Events Manager at Melbourne Partner Bar Whisky & Alement, Miranda is a passionate Society member and advocate. This piece was originally written for the 2021 November Outturn.
Edits: Adam Ioannidis