April — Music & Malts month, a celebration of whisky & music, and the intriguing and subjective duality between the two. As usual, we have some extraordinary bottlings on offer, including Cask 41.149 (Malt of the Month) which saw extra maturation in an actual bodega sherry cask (more on that below and on our YouTube channel), and a fantastic Taiwanese peated malt from distillery 138.
If you've been a bit too busy to check out our full April Outturn online (which you can read here), not to worry, because our team have once again put together their top five picks from this Outturn for those looking for some cask-buying guidance.
1. Cask 41.149 Merry cherry sherry
Wow, what a special Malt of the Month we have on offer this April. This is an 11yo Spicy & Dry release that was matured for 9 years in an ex-Oloroso butt, it was transferred into a 1st fill ex-Bodega Oloroso butt for additional two years of maturation. What's an ex-Bodega cask? Well, basically, whilst most sherry casks nowadays are seasoned specifically for use in the Scotch Whisky industry, this cask was actually used to mature sherry. That's pretty cool, and something we don't see very often at The Society (or anywhere else, for that matter). Some lovely tasting notes of walnuts and porcini mushrooms blended with heavy and oily malt spirit before a dash of lime juice splashed onto oak spices and dry tannins. Check out the full tasting walkthrough of this cask on our YouTube channel here.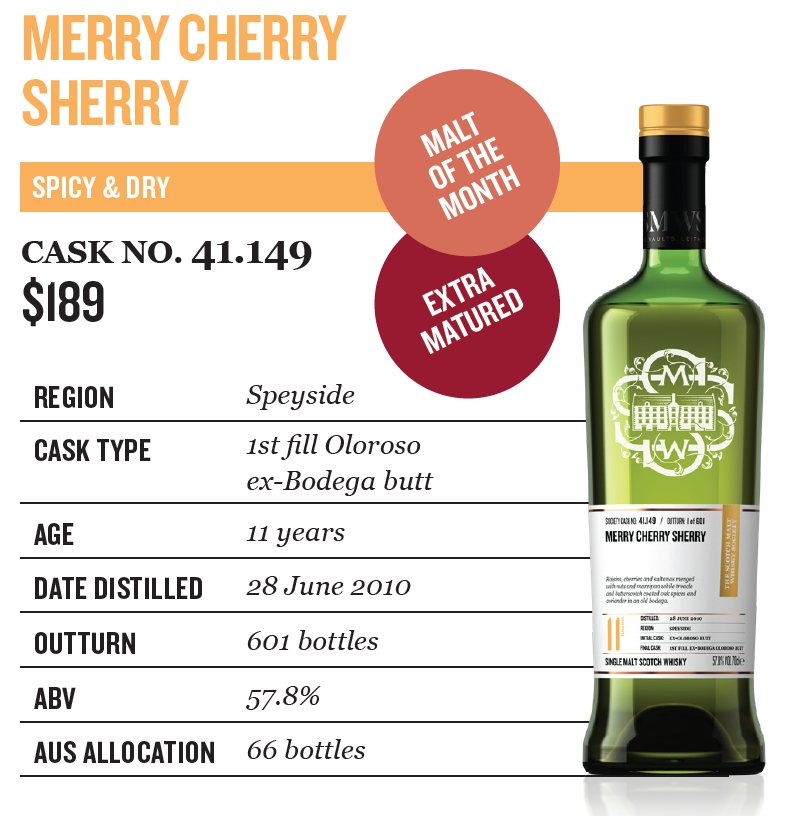 2. Cask 2.134 Herbs on a sponge cake
It's been a while since we've seen a Light & Delicate cask — and this one does what it says, it quite literally tastes like a herby, savoury sponge cake. But don't make the mistake of thinking the flavours themselves are light and delicate — this is a full-flavoured dram bottled at 59.4%! Fresh, light olive oil on the nose with some baking spices, and a bit of vanilla icing. The palate is reminiscent of high tea with some milky earl-grey tea. We recommend trying it with some water; you can learn more about this cask on our YouTube channel here.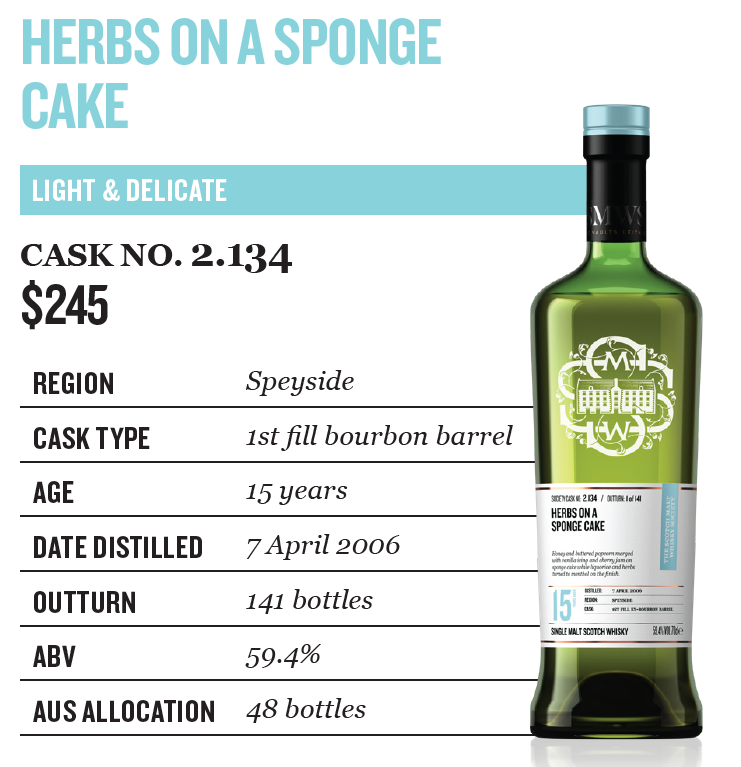 3. Cask 138.8 Alice through the tasting glass
Not the usual peated cask we're used to seeing here at The Society — a 6-year-old Taiwanese single-cask malt matured in a 1st-fill #3 char barrel, a super active cask for a quick maturation! Just like Highland peat will give you something different to an Islay malt, this Taiwanese peated malt is different again: the likes of salty BBQ with a hint of teriyaki sweetness, seawater, green olives and red diesel on the nose, whilst the palate presents an initial heavy ash note that gives way to umami paste, fermenting soybeans, hessian, and smoked olive oil. This is one we'd highly recommend to those who love exploring different expressions of peat.
4. Cask 35.309 Darwin's tipple
Member favourite-distillery 35 is back with a clean Sweet, Fruity & Mellow release — Darwin's tipple! Matured in a 1st fill bourbon barrel for nine years, this sweet and floral cask is definitely a bit of a dessert dram. The spirit itself is playful and full of fresh stone fruit and hidden complexities. The nosing notes include laundered fabrics, pineapple cubes, melon liqueur and warm cedar wood, whilst the palate may bring you sweet dessert wines, yellow plums baked with calvados and things like marshmallow, apricot jam and vanilla custard; again, a great dessert dram.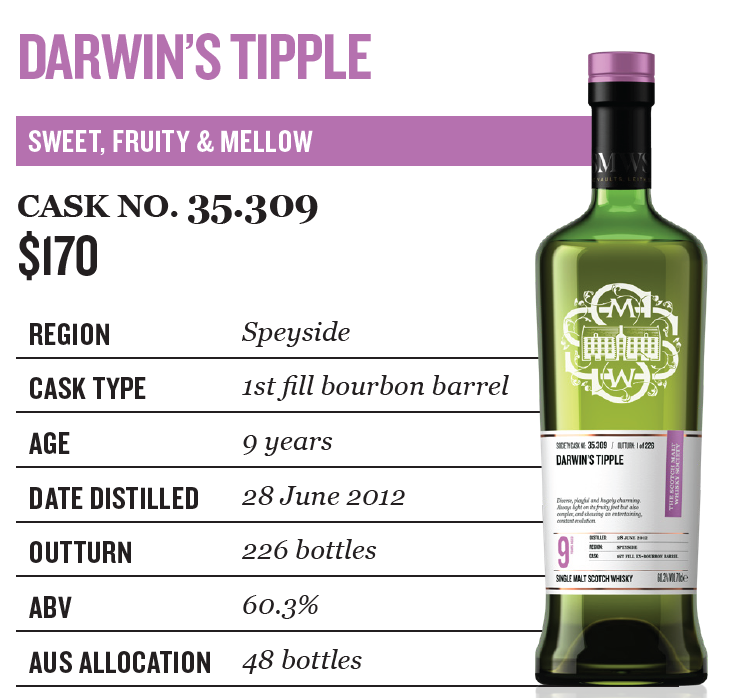 5. Cask 113.61 It's a peach
What a bundle of tropical joy this cask is — it was matured for 11 years in a 1st fill ex-bourbon barrel and bottled at a natural cask strength of 65.4%, so it's certainly up there. That 1st-fill maturation delivers creamy, vibrant and bakery-like flavours with cinnamon rolls (Zimtschnecken) and classic cream puffs (Windbeutel) on the nose. The palate was a little softer and mellower with pineapple, mango and white chocolate cheesecake notes detected. The Juicy, Oak & Vanilla releases are always a treat, don't miss this one!
Be sure to head over to the shop to pick up these casks (and over 60 other amazing bottlings) from March Outturn; if you're still looking for a more personalised recommendation, then you can get in touch with our Dram-cierge team at [email protected] or 02 9974 3046.
Don't forget to dive into April Outturn below if you haven't already and check out the other casks available (plus some cool reads).