If there's something that we know a bit about, it's how to run a whisky club. That might sound like a bit of hubris, but after 36 years it's something we're quite proud of…
So what is the role of a whisky club, what does it need to do, and how can you make the most of being a member?
A whisky club is a place to meet like-minded flavour-appreciators, and taste some of the most unique spirits on earth. It's a time to meet up, create experiences, discover distilleries, and learn about the true appreciation of whisky. It's an online and in-person community of people of a wide and diverse background, who through many avenues discover single cask whisky and unique flavours. It's a place to get new releases, rarities, experimental releases, tasting kits, and more. A place to come together, share in great experiences, and create long-lasting friendships with amazing people. Well, this is all what it is to me, and to the SMWS.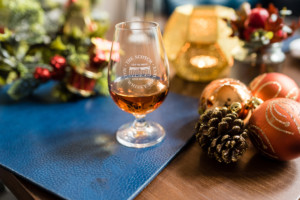 Everything we bottle at the Scotch Malt Whisky Society is single cask. That means that it carries a unique flavour profile specific to that cask. It might be one of 20 bottles, it might be one of 600, but it's certainly one of a kind, and when it's gone, it's gone. The journey continues. To put that into perspective: 85% of all whisky consumed worldwide is blended whisky. 14.99% is single malt whisky. That means we're really REALLY at the 'pointy end' of the scene with 0.01% bottled as single cask (or less).
Pip Hills, the enigmatic founder of the Scotch Malt Whisky Society, started out in 1983 by bottling a Speyside whisky straight from the cask, at natural cask strength. To say this was unusual back then is an understatement, it was straight up unheard of. People thought he was mad. Fast forward to now and to this day we're still bottling single cask, cask strength, single malt whisky, unlike any on earth. A whisky club without parallel.
So how do you make the most of being part of an actual whisky club? Come to our events, either in-home or at our place. Grab a membership and unlock the full benefits of membership such as discounts to our events, Partner Bar offers, Unfiltered Magazine, your monthly Outturn, and access to a world of single cask whisky.
See you at the club!