The 40th Anniversary year sees The Scotch Malt Whisky Society release one of its oldest and most exceptional whiskies ever.
As we see our 40th-anniversary year come to a close, the biggest whisky club in the world, The Scotch Malt Whisky Society, unveils a 40-year-old, Single-Malt Scotch Whisky from a Single Cask, to share the Society's legacy in the best way we know how: with an exceptional whisky for its members.
The Society started with a group of friends, who had the opportunity to buy and share a single cask of whisky and were dazzled by the unadulterated beauty of its flavour. At the time, they believed they had discovered the secret to drinking the best whisky on the planet. The philosophy of sharing and savouring single-cask bottlings has stayed at the heart of The Scotch Malt Whisky Society's maverick ethos ever since. This dedication to truly delicious drams has seen The Scotch Malt Whisky expand to almost 40,000 members in 28 countries.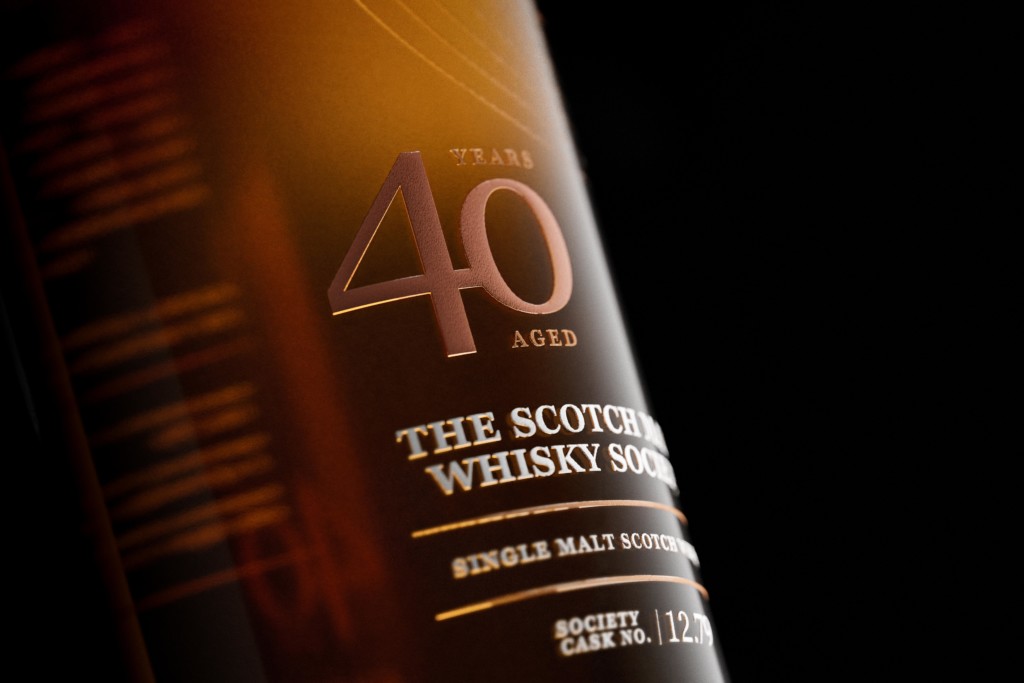 The Scotch Malt Whisky Society's 40th-anniversary release, Cask 12.79, is one of the oldest Single-Malt Scotch whiskies the society has ever released. This ex-bourbon barrel was first laid down in April 1983, at the very same time that The Scotch Malt Whisky Society began its whisky journey, making it fitting that this be the final release in a collection of eclectic and wonderful celebratory whiskies that have been launched to celebrate this milestone birthday. In anticipation of 2023, the expert Spirits Team at SMWS handpicked and curated this cask in 2018 with a transfer to a refill Spanish oak sherry hogshead to deepen the flavour and add a brilliantly fitting birthday-cake-spice character to the liquid.
Maturing for a further five years, each and every year the liquid was sampled to ensure the whisky was just as intended until it was ready to bottle for the 40th anniversary. The result is a wonderfully mature and very elegant whisky that you'd be forgiven for spending hours unravelling the deep layers of its flavour and character with the drinking experience enhanced by its beautifully unique and one-of-a-kind bottle. This whisky is the epitome of elegance and good taste and represents the Society's legacy, and why members around the world drink Society whisky.
As such an exquisite and rare whisky — only 130 bottles of this will be available on sale to members of The Scotch Malt Whisky Society, 12 of those bottles will be available exclusively to Australian members. As part of the birthday celebrations, 40 members of The Scotch Malt Whisky Society, who will be selected at random from all corners of the world, will be surprised with a complimentary dram of this celebratory expression, ensuring this whisky can be shared in all corners of the world by Members on the Society journey.
"This cask was initially laid down to mature in 1983, which just so happens to be the year that the Scotch Malt Whisky Society was founded." Euan Campbell, Head of Whisky Creation at The Scotch Malt Whisky Society states.
"It seemed only appropriate that we chose it for the 40th-anniversary celebrations. We've been monitoring this one very closely for a number of years. We knew this was the right time to bottle it — and share it with people to enjoy this 40-year-old whisky, in our 40th year.
After so many years of maturing in an ex-bourbon barrel, we decided to take the flavour in a different direction — we moved the whisky into a refill Spanish Oak, Oloroso Hogshead. The key to it being refill was that it would be quite relaxed and complementary, adding another layer of complexity without being too intense for such an old fragile whisky. It stayed in that cask for a further five years. There are only 130 bottles of this. It's just one to really savour and appreciate the influence ofcask on flavour."
Rebecca Hamilton, Chief Marketing & Experience Officer for The Scotch Malt Whisky Society further adds:
"We are the original pioneers in cask-strength, single-cask, one-off Scotch whisky. We have kept this exceptionally aged, cask-matured and flavour-curated bottling true to our origins with a nostalgic nod to our celebrated past throughout the creation process. It is a beautifully minimalistic bottle that really ensures the whisky itself is the hero.
We have treated this bottle as we would create a piece of art, with craftspeople working together to do justice to the years in cask. We also wanted to pay homage to our beloved iconic green bottle, collected by many the world over, this bottle has been a passionate collaboration of artists and designers. It is also a reflection of how the Society began, from that 'wow' epiphany moment to the global single-cask whisky fan club we are now. I know that members will cherish this spectacular piece for years to come."
No paper labels are used in the design, instead the minimal words are printed directly on glass giving an unrestricted view of the unadulterated whisky within, ensuring it's the real hero. One third of the bottle has also been hand dipped from cork to collar in dark green wax, which pays homage to the Society's infamous and iconic green bottle. As it has been hand dipped, the wax detail produces a different coating every time, meaning each of the 130 bottles is truly unique. The bottle rests on a handcrafted walnut plinth and a museum-quality clear case finishes the piece and allows the member to proudly display it in their collection.
This special bottling is available in the UK, Europe, US, China, Japan, Australia and Taiwan.