May Outturn 2022 Feature Article
The Society is ready to let loose six exclusive festival bottlings. Spirits Manager Euan Campbell explains how we created them, and why you should try and grab a dram…
The Scotch Malt Whisky Society was formed to celebrate the joy in sharing exceptional whisky — and there's nothing quite like the festival month of May to demonstrate that our founding principle is not only alive and kicking — it's bigger and more all-encompassing than ever.
A lucky few from our global membership will be heading to the different whisky regions in May to take part in tastings, dinners and parties, celebrating the contribution each of these areas has made to the wider world of whisky. The Society will be there, of course, but we wanted to make sure that as many of our members as possible — whether they are physically present at the festivals or not — could get to share the experience in their glasses, wherever you might be.
An inclusive approach
With that in mind, we're taking a different approach this year with our exclusive range of 'Rare Releases' festival bottlings, creating a series of six small batch single malts that we'll be able to share in greater quantities across our global membership than we could ever hope to do with bottlings from a single cask.
And we're not only celebrating the physical festivals taking place again throughout May this year in Speyside, Campbeltown and Islay. Even if the Highlands and Lowlands aren't holding their own events, we didn't want to neglect these regions, and have bottled single malts from both areas so that we can offer festival bottlings from across the five whisky regions.
Expanding Horizons
All six whiskies are single malts from different, individual distilleries, bottled at their natural strength and across a range of flavour profiles – even the two Peated bottlings from Islay show distinct characteristics. In the development of each, we decided what flavour profile we were looking to showcase and then looked at how we were going to achieve it by working with loads of samples, nosing and tasting our way through them, grouping them and then deciding what we thought worked best.
We've been able to work with a wide variety of cask types to nudge our recipes in the right direction as well, and these small batch single malts are great examples of how that variety of wood types also helps to give us an infinite number of flavours to play with. That could be in some examples by getting the full impact of one cask type, or in others by using a mix of bourbon and sherry wood to create something completely different. Characterful spirit and characterful casks make for an incredible combination and helps us to continue to expand our horizons.
A festival within a festival
You can think of it as a 'festival within a festival', where we're hunting down flavours and characteristics from across the regions. You can judge for yourself how typical or not they may be of the regions they come from – or whether that's of any importance. What matters to us is that as many of you as possible, from Scotland to Australia, Japan to the United States and beyond, get the chance to share these sensational drams – and if you can't make it over here this year, at least you're getting a taste to transport you.
The casks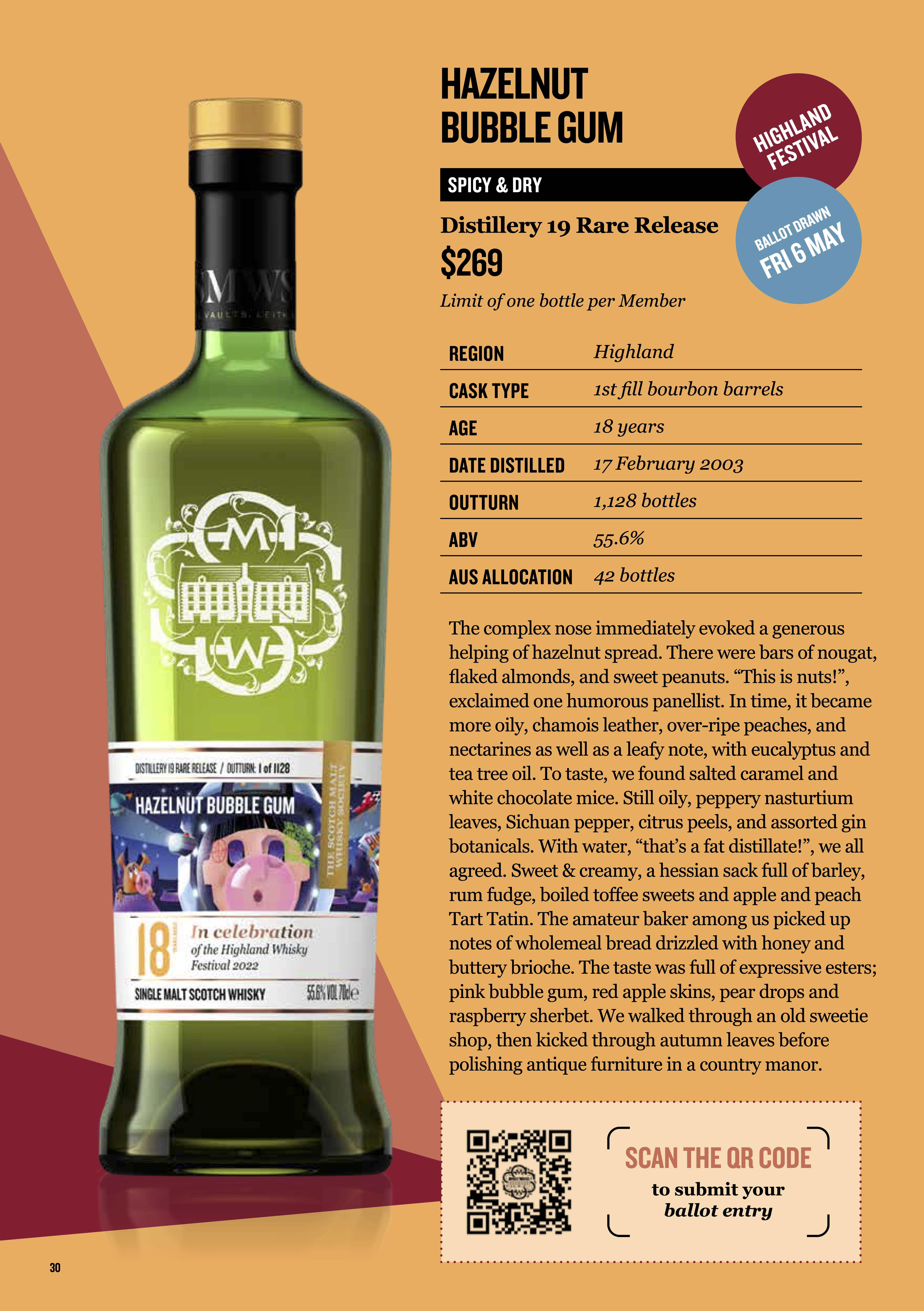 DISTILLERY 19 RARE RELEASE: HAZELNUT BUBBLE GUM
In celebration of the Highland Whisky Festival 2022
The whole notion of whisky regions is open to interpretation, but if you were to imagine a classic unpeated Highland style, then this is it – it's in our Spicy & Dry flavour profile, with a rich mouthfeel and full of wonderful fruity esters.
Tasting notes
The complex nose immediately evoked a generous helping of hazelnut spread. There were bars of nougat, flaked almonds, and sweet peanuts. "This is nuts!", exclaimed one humorous panellist. In time, it became more oily, chamois leather, over-ripe peaches, and nectarines as well as a leafy note, with eucalyptus and tea tree oil. To taste, we found salted caramel and white chocolate mice. Still oily, peppery nasturtium leaves, Sichuan pepper, citrus peels, and assorted gin botanicals. With water, "that's a fat distillate!", we all agreed. Sweet & creamy, a hessian sack full of barley, rum fudge, boiled toffee sweets and apple and peach Tart Tatin. The amateur baker among us picked up notes of wholemeal bread drizzled with honey and buttery brioche. The taste was full of expressive esters; pink bubble gum, red apple skins, pear drops and raspberry sherbet. We walked through an old sweetie shop, then kicked through autumn leaves before polishing antique furniture in a country manor.
DISTILLERY 36 RARE RELEASE: A REWARD FOR PATIENCE
In celebration of the Spirit of Speyside Whisky Festival 2022
There's a beautiful balance to this, which was first matured in bourbon hogsheads before we transferred it to 125-litre oloroso quarter casks
that were supplied to us by our partners in Jerez, José y Miguel Martin. After that, we put it back into second fill bourbon barrels that we'd recently emptied, giving it time to relax and marry before bottling. The result is a superb dram with the big, dark and intense flavours you would associate with oloroso sherry maturation, but with the lush tropical notes from the bourbon casks as well.
Tasting notes
A robust and toasty aroma that incorporated buttery shortbread, caramelised oatmeal, brown toast and thick cut sticky malt loaf. Also hints of treacle, tea biscuits and wintergreen with a tang of hessian. Reduction brought freshly baked brown bread, toasted sunflower seeds, mustard oil and orange vitamin tablets. Autumnal, earthy and with sweeter tones of caramel, tamarind and ginger. The neat palate opened with plum and nectarines stewing in Armagnac, charred wood embers, brisket ends and pears poached in dessert wines. Some nut infused chocolate, camphor and pineapple cake. Lots going on! Water brought a nice bitter herbal quality, more toasted nuts, dark boozy fruits and things like spiced damsons, fig paste, plum wine and maple syrup.
DISTILLERY 5 RARE RELEASE: LIME AND THYME
In celebration of the Lowland Spirit 2022
This has everything you would expect of an elegant, older Lowland whisky – in this case it's triple distilled, with narrow cut points and matured in active bourbon wood to bring a classic and delicious Sweet, Fruity & Mellow flavour profile.
Tasting notes
A wonderful melange of aromas greeted the panel with fresh spring grass, flowering lilies, honeysuckle, melon and mango as well as buttered toast, sultanas, banana chips and golden syrup. On the palate neat a sweet, juicy, tropical fruit juice with coconut water at first appeared, to be followed by a peppery ginger spice note before ending in a delicious lime and thyme cake. After reduction we hung freshly washed linen on the line in a flowery meadow before we enjoyed banana bread, buttered oatcakes, cantaloupe melon and to drink, while some had a wheat beer others chose a peppermint tea before we all finished with a dessert wine.
DISTILLERY 93 RARE RELEASE: CHANGE FASTER THAN A CHAMELEON
In celebration of the Campbeltown Malts Festival 2022
Campbeltown currently feels like a region in the renaissance, with news of new distilleries being planned, and we wanted to explore the town's historic reputation for rich, characterful spirit. This is firmly in our Oily & Coastal flavour profile that is often associated with Campbeltown. There is no peat influence but still a coastal salinity, while the first fill bourbon barrels bring a lovely woody influence with vanilla and spice to balance everything beautifully.
Tasting notes
A fascinating aroma awaited us; each time we went back it changed! To mention just a few – aniseed, Himalayan salt, lemon grass essential oil, seaside swimming pool, Marie Rose sauce and extra virgin rapeseed oil. The taste neat ranged from cough mixture over salted caramel lime chocolate to crispy squid and prawns in a sweet chilli sauce. The addition of water released the scent of cranberry-pistachio white chocolate bark with sea salt as well as arugula salad with olive oil, lemon and parmesan cheese before, on the palate, yet again multifarious flavours of green tea, herbal liqueur, vegetable tempura with a soy dipping sauce and freshly foraged sea greens.
DISTILLERY 3 RARE RELEASE: FRUITY TIME TRAVEL
In celebration of the Islay Whisky Festival 2022
This is such an elegant take on a peated Islay whisky, left to mature over the course of 17 years in less active hogsheads that have brought a beautiful herbal peat smoke along with exotic fruits. Gorgeous!
Tasting notes
A typically exquisite nose that screams 'this' distillery. Abundant soft, almost overripe, exotic fruits. Wispy peat smoke, bonfire embers, bonjella mouth gel, seawater, pink grapefruit and light antiseptic notes. Just exquisite! With water we found it became more mineral, with dried mango and guava, threads of peat smoke, ointments, dried herbs and a lovely umami richness. The neat palate opened with a slick of sweet, velvety peat. Oily in texture, with vivid notes of mango, passion fruit and guava jam. Exotic fruit salad juices pooling in a bowl with sharper tones of grapefruit and seawater. Reduction brought smoked lychees, smoked olive oil, mineral salts and stunningly resinous and herbal peat smoke. Sweet and saline in perfect balance.
DISTILLERY 53 RARE RELEASE: THROW THE CORK AWAY!
In celebration of the Islay Whisky Festival 2022
Islay is the only region where we've bottled two festival whiskies this year, and although they're both in our Peated flavour profile, this one shows just how different these island drams can be – even from the same region and from the same flavour profile. In this case, the spirit spent time in bourbon hogsheads before we transferred it for more than two years to first fill American oak oloroso hogsheads from our partners at Tevasa cooperage in Jerez. That's given the whisky a great mix of a more full-on Islay peaty character with dark, nutty and sweet oloroso sherry.
Tasting notes
We imagined cooking sesame peanut noodles with umami paste on an old steam tugboat with boiler smoke, engine oils, tar and mechanical rags next to aromas of camphor and creosote. On the palate smoke galore – imagine a peat smoked green olive tapenade made with olives, anchovies, garlic, parsley, olive oil, capers and lemon zest – add some Maggi liquid seasoning and wasabi – you get the picture! Following reduction, the scent was that of dry cured streaky bacon, apples baked with raisins and cinnamon as we made ourselves a Pu-erh tea. The taste now salty, sweet and smoky as well as oily, thick and tarry – terrific!
Cheers,
Euan Campbell
SMWS Spirits Manager