May-June in Scotland is whisky festival season. The sun is up (sometimes) and the weather is nice (mostly) so it's a marvelous time to visit distilleries, catch some live music, and enjoy all that the festivals have to offer.
Between May and June each year, there's the Spirit of Speyside Festival, Campbeltown Malts Festival, and the Islay Festival. Each year, the Scotch Malt Whisky Society tasting panel works closely with many of the distilleries on special casks to be released to members through the Society. For the first time ever, the Australian branch of the SMWS is proud to release all four special offerings, at the exact same time they are being offered up to members in the UK! We've worked hard to make sure our members aren't left in the dark or waiting months for these to appear. They are here!
—
Cask 7.216 Champagne and crepes Suzette / Spirit of Speyside Festival Special Bottling
For anyone who knows the affinity I have with distillery 7 will know, their rich and oily spirit is a delight, especially from a 1st fill barrel like this. The panel tasting notes said: Imagine spreading a soft cashmere blanket for a picnic on the grass in a meadow full of flowers on a warm late afternoon. We were licking soft vanilla ice cream, chewing coconut cookies and pouring Champagne into flutes – this is the life! Wow – spicy, sweet and fragrant on the palate neat; fluffy waffles with a pinch of cinnamon, vanilla and maple syrup made this a real treat. When we added water we lit a sweet eucalyptus-vanilla scented candle and ate crepes Suzette with flambéed orange sauce accompanied by a jug of Sangria – the night had only just begun.
14 years old / 40 x bottles available / Juicy, Oak & Vanilla / $235
Cask 93.108 Earthy and masculine / Campbeltown Malts Festival Special Bottling
The rich and funky spirit out of distillery 93 in Campbeltown is always a delight to explore. This cask in particular is that earthy and masculine notes I personally love in a lightly peated dram. The tasting panel said: The nose reminded one panellist of fixing his model railway – others got cooking chocolate, pain au chocolat, pine needles, a carpenter's bench and an Afghan coat. The palate had intense, sweet wood smoke, medicinal elements (menthol, Euthymol) foamy bananas and stewed rhubarb; an after-taste of chewing twigs and coltsfoot rock – all rather earthy and masculine – but good. Water and time improved the nose – perfumed, floral smoke; spicy Christmas baking and an old leather bag of wooden-shafted golf clubs. The palate had hints of herbal smoke, coffee, Murray Mints and salty driftwood – a perfect dram for coming in from the cold.
10 years old / 35 x bottles available / Lightly peated / $230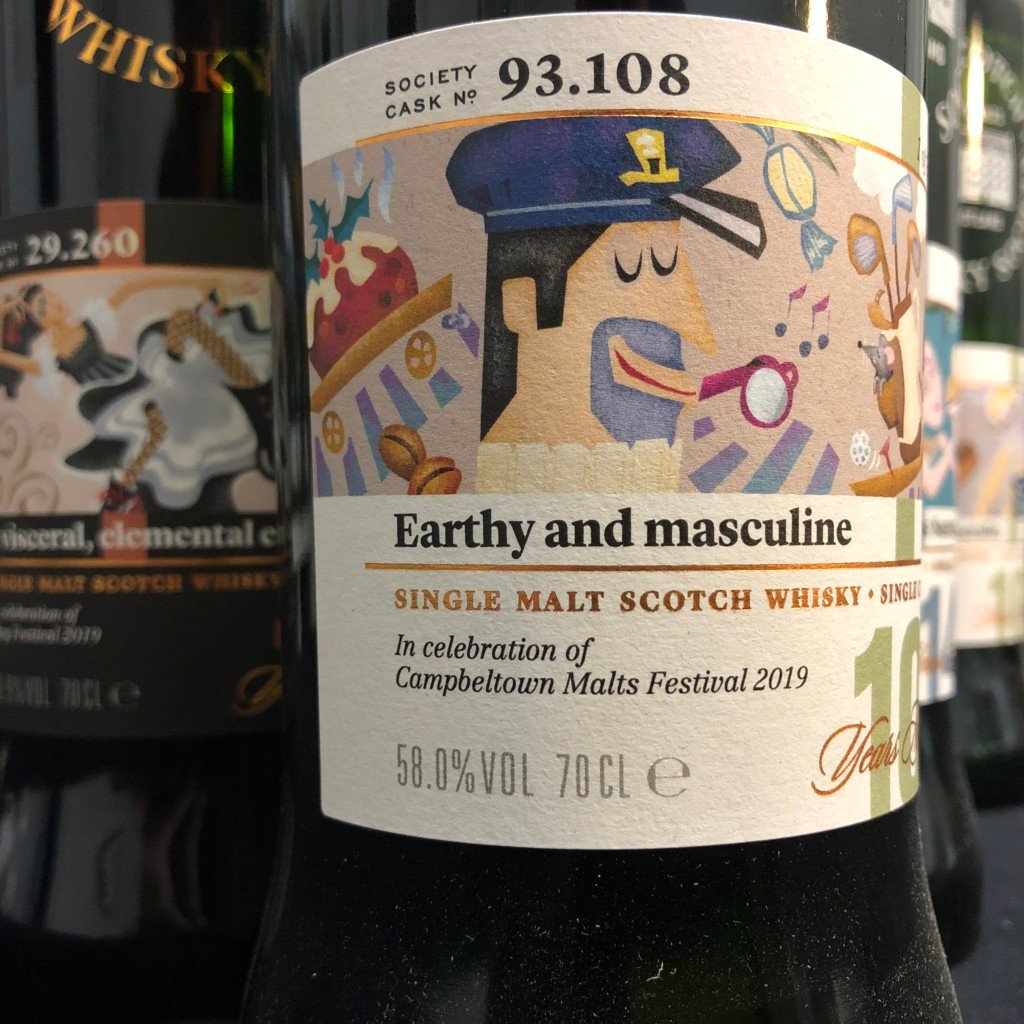 Cask 53.284 Smoky, malty minerality / Islay Festival 2019 Special Bottling
Our 53's are something of folklore. An Islay distillery that excels at cask strength, and single cask, and specially selected for Islay Festival this year. Wowza! UK tasting notes said: Imagine a flattering sweet peat smoke which was immediately apparent then add some oysters and scallops cooked on an open fire as well as winter waves sending their iodine rich scent into the salty, misty air and you should get the picture. On the palate neat salty almonds, tangy lemon and lime zest floated in a tide of a 'smoky malty minerality'. With water a little more phenolic at first (petrol and diesel fumes), but soon turning sweeter with roasted marshmallows, and to taste a lightly smoked tuna salad with sweet relish, sweet corn niblets, mayonnaise and honeyed mustard.
10 years old / 40 x bottles available / Lightly peated / $235
Cask 29.260

A visceral, elemental experience / Islay Festival 2019 Special Bottling
This is the bruiser. Dark as the night with a ruby tinge in the glass. While still peated as its from distillery 29 in Islay, this falls under our Deep, rich and dried fruits flavour profile, and rightly so after spending a full 19 years in a sherry butt. Incredible. Tasting notes: The nose – syrup of figs, prunes, moist gingerbread, custard tart, Liquorice Allsorts, cigars in bodegas and boots of Spanish leather. The palate – cough syrup, ash, burnt wood, dark honey, dried orange peel, sugary espresso dregs, poached pears with cloves and kippers soaked in PX.  With water, the nose finds malt loaf, stem ginger, maple pecan pastry, muscovado, creosote, exotic pipe tobacco and burnt prawn shells. The palate now has bottled Guinness, Amarena cherries and burnt raisins in a cake – quite a dram, a visceral, elemental experience. 16 years in an American oak Oloroso butt – then into a first-fill Spanish oak Oloroso butt.
19 years old / 40 x bottles available / Deep, rich and dried fruits / $430
To access all the benefits of membership to the world's best whisky club, click here.