NSW & Sydney Members: You asked for it, we delivered!
If there's one piece of recurring feedback we get from members of all walks, but especially NSW, is that they would like to taste whiskies from the upcoming Outturn before committing to buying a bottle. Partner Bar powerhouse Whisky & Alement have long had this treat for VIC members and still open the full Outturn normally a week before it launches online, but NSW members can now celebrate the same benefits of their membership at Shirt Bar Barangaroo as of RIGHT NOW!
That's right! The upcoming Outturn each month will be available to sample by the dram, in full or half-serves, at esteemed Sydney Partner Bar, Shirt Bar Barangaroo, at least a full week ahead of Outturn landing each month online.
The full March Outturn is officially on pour as of right now, with 10% off for SMWS members: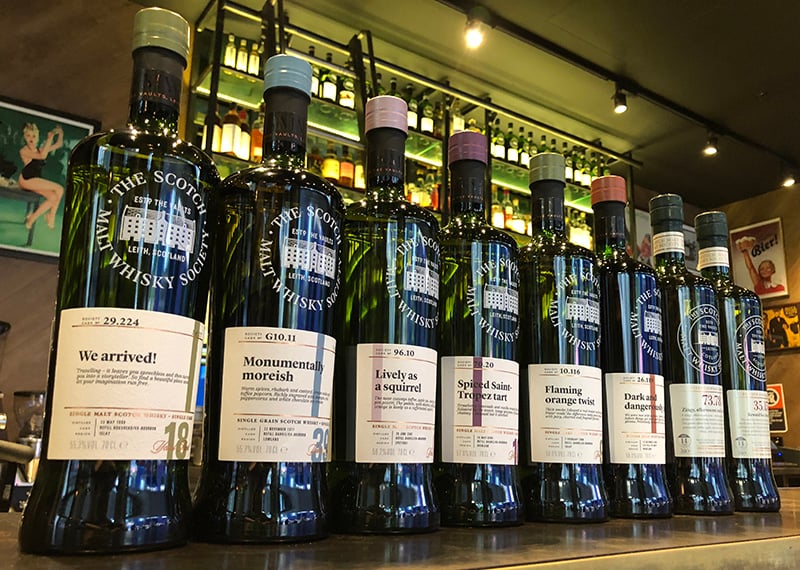 I strongly encourage you to get over to Shirt Bar Barangaroo, ask the friendly staff for the March Outturn, and line a few drams up starting right now! You might like to start with the 39 year old G10.11, or perhaps the zesty sweet brilliance of 96.10, or the old and sherried 26.119, or the smoky monstrosity that is 29.224.
The finer details:
– Most of the new Outturn will be available by the dram at Shirt Bar Barangaroo. There may be instances where some bottlings aren't featured due to scarcity of supply.
– The selection will be announced each month on our facebook group, Twitter, and through Shirt Bar Barangaroo. We aim to make sure the lineup is ready to rumble a week before Outturn opens online on the first Friday of each month.
– SMWS members get an additional 10% off the dram price by producing a valid membership card.
– Shirt Bar Barangaroo is located right at the base of Tower 1 on 'Scotch Row' in Barangaroo. It's a leisurely 3-minute stroll from Wynyard train station; very easy to get to.
– Shirt Bar Barangaroo, as well as Society drams and fresh beer on tap, also have an incredibly tasty food menu worth exploring!