Prepare yourself for something completely different, as the SMWS unveils its first ever blended malt Scotch whisky
The Scotch Malt Whisky Society has always sought out the best single cask, single malt from distilleries both across Scotland and beyond. But we would never shy away from taking an experimental approach in the pursuit of new flavour experiences.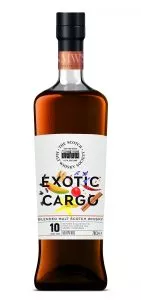 With that in mind, we set out to create our first ever blended Scotch malt whisky*, known as Exotic Cargo, which we present to our members now for your feedback and – we hope – your approval. Rest assured, our focus will always be on single cask, single malt whisky, but we're interested in hearing your thoughts about our new offering and keen to know if you'd like to see us develop more intriguing creations in the future.
To ensure the quality of Exotic Cargo, we sourced a selection of pre-blended Scotch malt whiskies, distilled in 2006 and matured from birth in exceptional first fill ex-sherry Spanish oak hogsheads for their full term. But that was only the first step on the mission to create our own outstanding blended malt whisky.
SMWS spirits manager Euan Campbell oversaw Exotic Cargo's creation, and describes how he developed its flavour profile.
"I wanted to create a big, bold blended malt, showcasing a heavy sherry influence," he says. "The whisky in these casks was rich, spicy and complex, with a depth that only long-term maturation in first fill Spanish oak sherry hogsheads can bring to the spirit.
"We sampled and assessed each of our casks, before grading them based on the intensity of the sherry influence. Each one had developed slightly differently, despite the casks being filled on the same day in 2006 and having matured in similar Spanish oak hogsheads.
"We then tested the whisky in various combinations – around a dozen – and at different strengths, before agreeing that a reduced strength of 50% abv brought out the best of the whisky's flavour, while giving you the option to reduce its intensity with a little water. True to the Society's ethos, the result is a one-of-a-kind liquid, to be savoured and enjoyed in good company."
The Tasting Panel describes Exotic Cargo as a "sherry-soaked cruise into paradise", with a deep yet delicate nose of warming nutmeg and cinnamon spice, followed on the palate by an intense sweetness, rich with moist ginger cake, treacle toffee, dark chocolate, marmalade and Turkish Delight, together with tannic wood, chilli spice, liquorice, walnut and leather. The addition of water enhances the notes of wood and spice, but without compromising the blended whisky's balance.
Exotic Cargo is available in an Outturn of 1,937 bottles, and as with our single malts, is neither chill-filtered nor coloured.
This is the first time we've released a blended malt whisky – we trust that by travelling into new territory, you can settle back and enjoy the journey, and that our Exotic Cargo meets with your approval.
We'd love to know what you think about Exotic Cargo once you've had the opportunity to give it a try – post up your thoughts to our Facebook group and start a conversation!
Exotic Cargo is available online Friday 16th March at midday AEDT for members of the SMWS, limit one bottle per/member, at only $155.
* Blended malt whisky refers to a combination of single malts, married together from more than one distillery. Unlike a blended whisky, a blended malt whisky does not contain any grain whisky. Prior to 2009, blended malts were sometimes also referred to as vatted or pure malts, but those terms are no longer permitted by the Scotch Whisky Association.