The Scotch Malt Whisky Society has played a key role not only in the growing appreciation for single cask, cask strength whisky, but in our understanding of what we're drinking. A thirst for knowledge has always been as important to us as a thirst for the whisky itself
Cast your mind back – if your mind goes that far back – to the year 1983, and think about the whisky scene at that time. What whiskies were available in your local shop or pub? How did you drink them? Were they more likely to be blends than single malts? And could you even have imagined such a thing as a cask strength whisky drawn from a single cask?
In our 35th anniversary, we can reflect on how different the whisky world is in 2018, and The Scotch Malt Whisky Society's role in that development.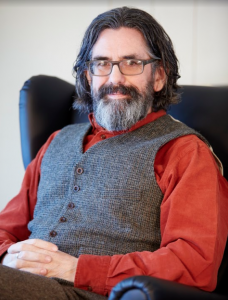 A CABAL OF TRUE BELIEVERS
"Single malt in the early 1980s was the preserve of the intellectual: artists, poets, doctors, lawyers (and being Edinburgh there was a wheen of those), the informed dreamers," says whisky writer Dave Broom, in his reflection of the period that the Society was born. "But there were rumours that somewhere in darkest Leith (Leith? In the early 80s?) there was a cabal of true believers, heretics and keepers of the flame gathering and plotting."
Dave Broom remembers rumours of "a cabal of true believers, heretics and keepers of the flame" gathering at The Vaults in Leith.
That cabal of true believers gathering and plotting in Leith were the founding figures of The Scotch Malt Whisky Society. But as well as bottling whisky from single casks, they realised that sharing an understanding of what was in the cask was essential to building a knowledge and appreciation for the whisky.
Society founder Philip 'Pip' Hills reflected on the whisky scene prior to the Society's birth, in his book of essays, Scots on Scotch.
"All Scots drank whisky, or were supposed to," he wrote. "The whisky they drank was blended whisky. Few asked where it came from or how it was made. Despite the prominence of whisky in the national identity, it was commonplace for Scots to know nothing of its manufacture, and less of the process of maturation."
SHAPING YOUR APPROACH TO WHISKY
Since 1983, the Society has made whisky knowledge a key part of its offering to members, from providing detailed information about the whisky's age, maturation and character on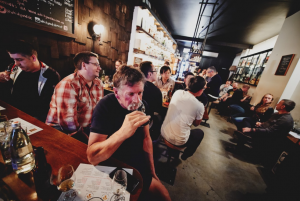 the bottle itself and in the accompanying Tasting Notes, to wider reflections on how best to nose and taste whiskies and on to various aspects of the whisky-making process.
"For some of us, depending on how long you've been enjoying whisky for and how you came to be introduced to this wonderful spirit, the Society may have played a major role in your whisky journey and shaped how you approach whisky today," says Andrew Derbidge, the Society's cellarmaster and NSW manager at The Scotch Malt Whisky Society Australia.
DELVING INTO THE DETAIL
Whisky knowledge has always been a central feature of the Society's member magazine, Unfiltered. As a newsletter, and subsequently as a revamped 36-page magazine since its relaunch in 2008, Unfiltered has featured industry experts and insiders to illuminate us about every aspect of whisky's production, and magic.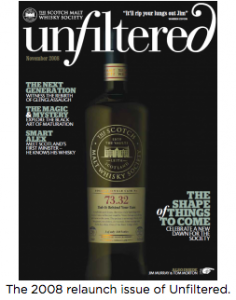 From barley varieties to strains of yeast, fermentation times, water sources and differences in distillation, Unfiltered has delved into every detail of how whisky is created. In our first relaunch issue in November 2008, in an examination of maturation, Highland Park's Russell Anderson told us: "We do not have all the answers. We won't have them in my life. Whisky is a 'black art' and long may it continue."
The examination into the black art of whisky-making will certainly continue, serving up a mix of insight and entertainment for Society members in the pages of Unfiltered. And if you're concerned that the more we delve into the mysteries of what makes our single cask, single malt so special, the less romantic it becomes, we'll leave the last word to James Brosnan, director of research at The Scotch Whisky Research Institute, which the SMWS joined at the start of 2018.
"For me, the more we find out about Scotch, the more interesting the story becomes."
We'll drink to that.